Ray Benjarara: Class of 2018
Ray Benjarara graduated from Santaluces High School in 2018 and is currently a junior at Florida Atlantic University, where he is majoring in chemistry.
"I chose FAU because it has a strong science program and I felt like it was the best choice knowing I wanted to pursue some sort of lab work," Ray said.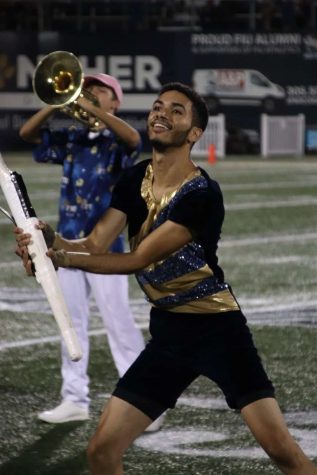 In his years at Santaluces, Ray was a member of the Criminal Justice Academy, as well as the Color Guard. 
Despite earning his education at FAU, Ray has had the opportunity to be a member of the Florida International University Color Guard for the past two years. In the winter of 2019, he marched with FIU Gold, attending local and regional competitions, while in the fall of 2019, he was a member of the marching Color Guard, allowing him to perform at FIU's football games and travel to other states. This past winter, he marched another year with FIU Winterguard, making it on the most intense and difficult team. Ray would have attended his first World Championship competition this past April, if not for the COVID-19 pandemic.
At Santaluces, Ray was always known for his outgoing and friendly personality, and that has not changed since. 
"I plan on admitting to FIU after I get my bachelor's to enroll in a forensics program and get a specification to my degree," Ray stated.
Juggling school, a part-time job, and constant trips to Boca and Miami make a unique and interesting life for Ray.