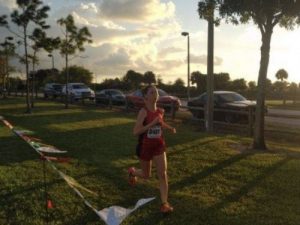 Athlete Profile: Sophie Sunderland

At Santaluces High School there are so many interesting and amazing students who live different, unique, and exciting lives. Many of these students are athletes. Some swim, some shoot, some pitch, some kick and others run. For Senior Sophie Sunderland running is a passion.
To get an insight of what Sophie Sunderland's life as a student athlete in cross country and track is, I asked a few questions.
Do you have any sport heroes?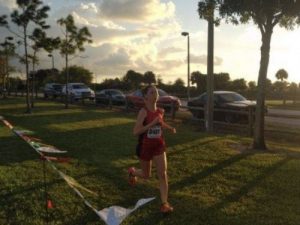 I do not have any.
Have you had any major obstacles in your athletic career? If so, what were they and how did you overcome these obstacles?
My sophomore year, I noticed that my running performance was deteriorating. I would become exhausted while running and my overwhelming fatigue made it difficult to read. I had my blood tested and was diagnosed with anemia. To overcome this obstacle, I began taking iron medication; likewise, I had to have the determination to keep training even when it was difficult to run.
What are some healthy routines or routines you follow in general?
I eat fairly healthy; I make sure my meals throughout the day give me the ideal amount of protein, carbs, iron etc. I often eat vegetarian meals. I also drink a lot of water and train 6-7 times a week.
What have you learned about teamwork from playing sports?
I have learned that being part of a team is really beneficial if you want it to be. Your team members are your competition and allow you to challenge yourself during training but are also your support system and encourage you.
Do you have any long term athletic goals?
My long term goal is to continue running and competing for as long as possible.
What career are you interested in pursing in the future?
I will be majoring in political science with a minor in Latin American affairs. I hope to work in government organizations focused on diplomacy.