Wings : Album Review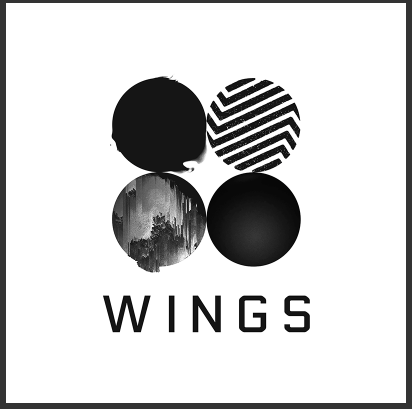 After concluding their "Most Beautiful Moments in Life" saga earlier this year, Bts are back with their second full length album "Wings". This is a brand new era for Bts, they are ready to show off their new edgy and mature concept. Gone are the days of just singing about wanting girls and having tons of money, this album is more of showing a more refined side of Bts. The boys of Bts are known for their very complex concepts, but this one blew all the others out of the water. This concept was well thought out and it certainly left fans wanting more.
This album has a wide range of tracks from catchy dance songs to strong vocal pieces. The promotional track for this album was "Blood Sweat and Tears" which has an  island  like melody with a strong backing beat and powerful vocals to match. Being the promotional track for the album a music video was released.  The video contained countless metaphors and symbolism such as the German phrase that was written above the giant statue of an Angel and the phrase translates to  "You must have Chaos within you to give birth to a dancing star." Also Kim Namjoon, the leader of the group, was heard reading an excerpt from Demian , written by Hermann Hesse, which is all about learning to recognize the real world from an illusion.
This album overall was very well constructed and well thought out. Each of the solo teaser videos released were actually the names of each solo track given to each of the members. With the solo tracks it really gave each of the members their own chance to shine and bring forth their own stories. This album had a wide range of songs from catchy dance songs to powerful vocal pieces.  As a major BTS fan this album left a sense of pride to know that the boys finally know who they are as artists. They have come so far from two years ago when their first full album "Dark and Wild" was released. I personally can not wait to see what BTS have in store for fans in the future.