The MTV Video Music Awards
The 35th annual MTV Video Music Awards took place this week in Newark, New Jersey, celebrating all the top artists and songs of the year. 
The awards show was hosted by Sebastian Maniscalo, a comedian and actor, an odd fit for a music award show. He made multiple jokes about millennials that most did not find funny. His joke about safe spaces also fell flat, with many feeling it was out of touch.
Taylor Swift opened up the show with her new song that won her a few awards this year called "You Need to Calm Down." There were plenty of lights, bright colors, and animations with this performance. She then performed another new single called "Lover" off her new album. She played the guitar while singing. This was a great opening performance, getting the crowd ready for the events to occur.
The awards show was held for the first time in Newark. Because of this, the awards show highlighted famous New Jersey natives. The Jonas Brothers performed on the shore at Asbury Park playing some of their newest hits including "Sucker." There were thousands of people there watching them perform. Some of the "Sopranos" actors also showed up as presenters. 
For the big hip-hop finale, New Jersey native, Ice-T introduced other New Jersey natives that are legends to the state including Queen Latifah and Naughty by Nature. 
One of the biggest awards of the night, the Video Vanguard award was given to Missy Elliott. This was a long-overdue award for Missy who has become a fashion icon and paved the way for women in music.
She performed some of her biggest hits including "Work It," and "Gossip Folks." She also had multiple outfit changes from a silver suit to a scarecrow ensemble.  
The award show presented video of the year in the middle of the show. Some felt this was odd because it is one of the biggest awards of the night. Taylor Swift walked away with the award, bringing out her costars that were also in the music video. In her acceptance speech, she reminds everyone to go sign the petition for the equality act, which she highlights in her video.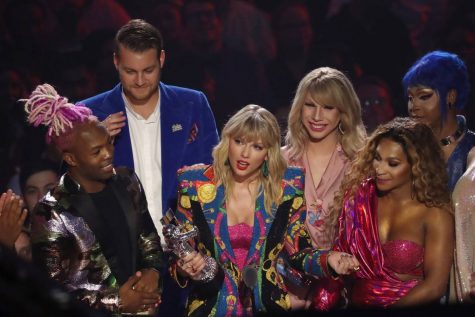 Some awards of the night were:
Artist of the year

was awarded to Ariana Grande, however, some felt like she was snubbed because she could not be at the awards show.

Best song

was given to Lil Nas X and Billie Ray Cyrus with their hit "Old Town Rode."

Best new artist

was Billie Eilish.

Best collaboration

was Shawn Mendes and Camila Cabello for "Senorita." 

Best Group

was given to BTS.

Song of the Summer

"Boyfriend" by Ariana Grande and Social House.

Best Latin

was awarded to

ROSALÍA and J Balvin: "Con Altura" [ft. El Guincho].

Best R&B

was given to Normani for her song Waves [ft. 6lack].

Best K-Pop

was given to "Boys with Luv" [ft. Halsey].

Best Hip-Hop

was awarded to Cardi B for her song "Money."

Best Pop

was given to the Jonas Brothers for their song "Sucker."
People who performed included:
Normani

with her new hit "Motivation"

Shawn Mendes and Camila Cabello

with their song "Senorita"

Big Sean ft. Asap Ferg

with their song "Berzerk."

Shawn Mendes

with his song "If I can't have you."

J Balvin and Bad Bunny

with their song "Que Pretendes."

The Jonas Brothers

with their songs "Sucker" and "Only Human."

H.E.R

with her song "Anti."

Lil Nas X

with his song "Panini"

Rosalia and Ozuna

with their song "A Ningun Hombre."

Miley Cyrus

with her song "Slide Away."

Lizzo

with "Truth Hurts."

Missy Elliott

with "Get your freak on," "Lose control" and more.

Naughty by Nature, Redman, Fetty Wap, Queen Latifah, and Wyclef

perform a medley.