The Most Anticipated Games of 2020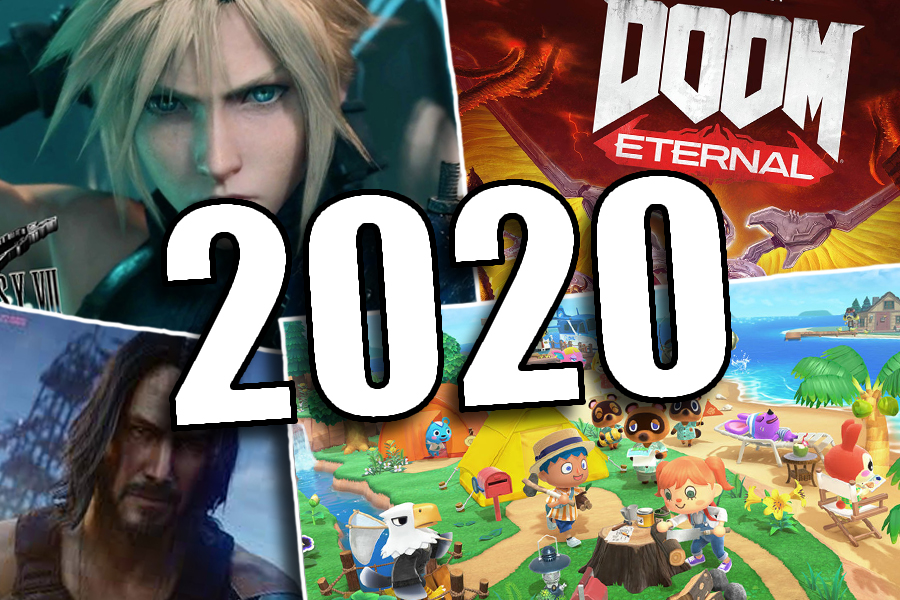 2019 was a year that seemed to be a failure in terms of new games that came out. The success from last year was the amount of excitement for new games coming out this year, with tons of featured trailers that succeeded in hyping fans up. Many teaser trailers that were released at big events in gaming exceeded the public's expectations and gave people something to look forward to this year. 
Half-Life: Alyx – March 2020
Half-Life: Alyx is a game that excited many fans around the world. The last Half-Life game that was released was in 2004 (Half-Life 2). The company that created the Half-Life series, Valve, is very notable and seemed to have been on hiatus for a long time, which made this reveal a large surprise. The game shows a ton of promise because of new VR mechanics that will revolutionize the Half-Life experience. One downfall of this game could be sales, as they might not be favorable due to this entry being a VR game. 
Final Fantasy 7 Remake – March 3rd
Final Fantasy is a very popular series, and many fans have expressed their excitement ever since the day the remake of Final Fantasy 7 was announced. The remake will follow the same story as the original game, where the protagonist, Cloud Strife, joins an eco-terrorist organization to stop a megacorporation from using life essence from the planet for energy. Although the game is a remake, it will provide deep exploration in the world itself and the characters within it. 
Animal Crossing: New Horizons – March 20th
A new entry in the Animal Crossing series was long awaited, and the day of release is finally coming soon. New Horizons shows so much promise to fans who have been waiting years for the next Animal Crossing game. It will feature many new mechanics that are completely different from the traditional Animal Crossing style, as the player is put on an island and will craft furniture, tools, and other items. For those who are possibly interested in picking up Animal Crossing for the first time, this game is perfect for those who are big fans of casual Nintendo games, or just casual games in general. 
"I'm definitely most excited for Animal Crossing. The game itself looks beautiful and shows a lot of potential. I really like how much freedom the game allows," says Vanessa Castellano, a senior at the school. 
Resident Evil 3 Remake – April 3rd
Resident Evil is a very popular horror-survival series that has dated back to 1996, when the first game was released. Due to the success of the Resident Evil 2 remake that became a Game of the Year candidate, this installment is coming soon, after the fans were asked if they wanted another remake. Excitement and hope is high for future remakes in the Resident Evil series, as they provide a completely new experience to their old and hard to control predecessors. 
Cyberpunk 2077 – April 16th 
Cyberpunk 2077 is a game that has triggered excitement due to a unique take on futuristic-style games. It's a game with an interesting storyline and interesting combat, with many different ways and play styles of killing the opposition. Its released is long-awaited, as it had a teaser trailer back in 2013. The game's release has been delayed a couple of times, so it's a relief to see a concrete release date. 
The Last of Us Part II – May 29th 
A long awaited sequel, The Last of Us Part II continues the story of former side-protagonist Ellie, and her adventures in a zombie infested world. The Last of Us series is praised by a very wide audience, and it is very hard not to recognize the name of the series. This game is not for the faint of heart, and practically anything can happen in a terrifying world full of zombies. 
Halo Infinite – 2020
Halo Infinite is possibly the most hyped game of 2020, as fans have been waiting on a new Halo game for a while due to the sheer popularity of the series. The Halo series features shooting and other types of combat that have made way for what space combat in video games should be. More announcements are to come in the future for this game, and many are waiting in anticipation. 
Junior, Nikolas Terizis, expressed his excitement for multiple games coming out this year. "I'm excited for Half-Life: Alyx because I played Half-Life when I was younger, I'm also excited for Halo Infinite because Halo is a classic, and The Last of Us 2 because I liked the first one."

About the Writer
Ryan Jayne, Staff Writer
My name is Ryan Jayne and this is my first year in journalism. I'm a senior and I participate in marching band as the Drum Major. I am also involved...