The 2020 Grammy Awards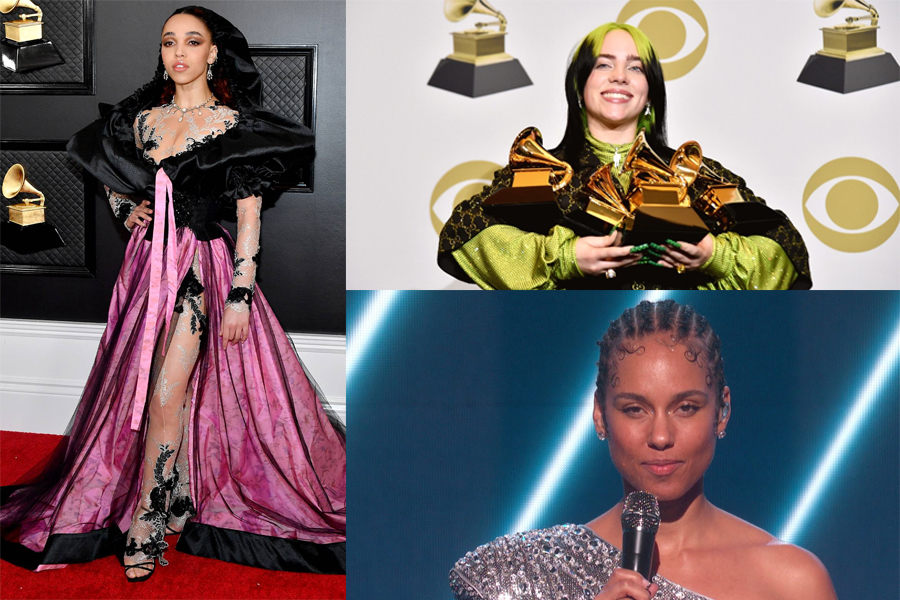 The 62nd Annual Grammy Awards took place this Sunday in Los Angeles, California. The city was still reeling from the devastating loss of NBA legend Kobe Bryant and his 13-year-old daughter, Gianna, earlier that day. Countless artists stated their condolences and sorrow throughout the course of the night. Alicia Keys hosted the awards for the second time and performed a touching rendition of 'It's So Hard To Say Goodbye To Yesterday' with Boyz II Men. Stars hit the red carpet earlier in the evening and some big wins went to a rising star.
Fashion is one of the major elements of the Grammy Awards and this year was no different. Before the show began, stars hit the red carpet with their fashion hits and misses. Chrissie Tiegen, Ariana Grande, and Lizzo made eye-catching appearances with their beautiful gown choices. On the other hand, Billie Eilish and FKA twigs, among others, stood out in the worst ways. Despite Billie Eilish's poor outfit choice, she took home major wins during the course of the evening.
The award for 'Best Album,' 'Best Song,' 'Best New Artist,' and 'Best Record' all went to up and coming star, Billie Eilish. Eilish is only 18-years-old and has already become the first woman to win the four major Grammy awards in one night. With all her success over the past few years, it should come as no surprise that Eilish is sweeping these categories. However, one person was not too happy about Eilish's wins: the singer herself. Before her win for 'Best Album,' Eilish was seen mouthing "please don't be me." The singer then accepted her award stating, "Can I just say I think Ariana deserves this?" Eilish's humble attitude and talent are only two reasons why the public loves her so much.
For the second year in a row, Alicia Keys hosted the star-studded event. Last year's Grammys saw Keys playing two pianos at once and performing 'Maple Leaf Rag.' After the response from Keys' first hosting, the award show brought her back for another round. Keys is a 15 time Grammy winner herself and continues to wow the audience with her musical talents. This year, Keys performed an original song to the tune of Lewis Capaldi's hit single. Keys beautifully serenaded the audience with a melody that had one central focus: love. After the events of the day, her good nature and compassion were something all audiences were happy to see.
About the Writer
Sophia Clifton, Staff Writer
My name is Sophia Clifton, and I am a senior this year. This is my first year being a part of the newspaper staff. I love to read, write, and draw in my...