Grammys Best Dressed
The 60th Annual Grammys brought all the excitement we crave on the red carpet with no shortage of head turning moments. This year's awards encompassed an array of new-comers we were all eager to see make their statement on music's biggest night. First time Grammy-goers like SZA and Cardi B didn't lack that "wow factor" and even some male artists made their fashion mark. With all the variety that night it was refreshing to see there wasn't a lack of unison; the stars sported their white roses in support of the #TimesUp Movement to stand in solidarity with sexual assault victims.
Some Grammy vets were absent on the red carpet (Beyonce and Rihanna) but made their appearances during the show. Their absence gave the new kids on the block their time to shine since it's easy to get out-staged by these red carpet naturals.
Here are my picks for the best looks of the night:
SZA
This look exemplifies SZA's care-free style and personality. She has an angelic effervescence to her that is represented by the flowy tulle bottom of her dress. The bell sleeves in the same material adds a whimsical feel which is just so SZA. She is able to look cool and elegant at once.
Lady Gaga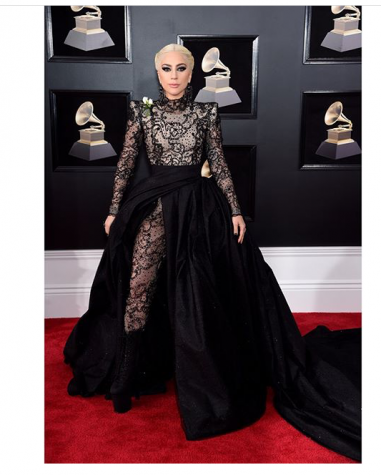 Gaga brought the much needed drama to the red carpet and we didn't expect anything less. In the simplest of terms the outfit is a black lace one piece with a long black warp skirt. The exposed leg showcases the lace and Gaga's signature ankle-breaking high heels. The hair and make-up complement the over all look.
Jaden Smith
Although some may put Jaden on the "worst dressed" list, I disagree. If you know anything about the young rapper then it's the fact that he always dresses like this. He's been seen multiple times wearing these patch-work pants and that is probably why I like the look so much. A famous person who actually wears their clothes more than once, is always refreshing… and in this case to the Grammys. Not to mention that these pants are sick and the puffer jacket, gold choker chains and trainers are EVERYTHING. "SYRE" is breaking the norm of wearing a suit and tie to an event that's purpose is to celebrate artists and their creativity.
Eve
One word to describe this look is Boss. Eva gives off the vibe of an empowered female with millions of dollars-stance included-  that means business. The geometric design and asymmetric hair work together well and I love the fact that she's bringing back early 2000s vibes with the "hand bag on the red carpet" trend.
Cardi B
First glance at this look, I hated it. I expected that rapper to be decked out in all black with crazy hair or something more powerful. But then taking a step back and really taking in the look I realized why she didn't. It was expected. An artist's first time at the Grammys where you are up for the biggest award of the night and preforming, you have to do the unexpected. Cardi looks so soft and so beautiful in this all white ballerina inspired dress with dramatic train. It's a side of Cardi no one has seen before and I'm glad she chose this look.
Lil Uzi Vert
I love everything about Uzi's style. It's "a mood" but he lives it 24/7.  He looks, acts and dresses like a high maintenance rock star. Also, you can tell he loves fashion and taking risks; he wears these "risks" so well that it looks normal on him. I'm not sure if the look is grunge or punk but it screams Hot Topic circa 2008 when everyone wore belt chains and dressed like Avril Lavigne.
Tyler The Creator
The best dressed male of the night goes to Felicia the goat aka Tyler. The Russian style hat, periwinkle coat and matching Louis Vuitton scarf are a look.
Andra Day
Honestly I just like the color combination and shoes. The retro vibe is cool too.
Kali Uchis
"Is she retro or is she futuristic…who knows" was the caption under Kali's post of this picture on Instagram. There's no need to explain any further.
Beyonce
SLAY. MUVA. EVERYTHING. Beyonce wins again, as if she ever stopped. (I also need that hat.)