BoxyCharm Vs. Ipsy
As a self-proclaimed makeup addict it's hard to decide what products are worth the money. Working for minimum wage only limits what you can buy even more. One solution many people have taken up is subscribing to makeup boxes. With these boxes you pay a fixed amount every month and receive a box or bag with 5-6 sample, full-size or deluxe-sample sized makeup, hair and skin care items.
Boxycharm is one of the more expensive makeup subscription at $21 a month and features mostly full-size high-end makeup brands like Pur, Mac, and Becca. There are four different payment plans, monthly for $21, 3 months for $59, 6 months for $116, or yearly for $231.
Each box also has a theme and comes with a description card with all the products and their prices, September's theme was Boxy Baddy and featured the Pur Soiree Diaries Eyeshadow Palette.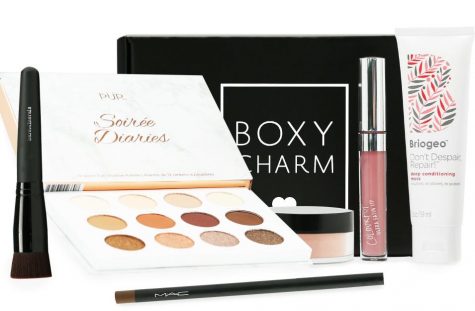 This months theme was Spellbound, keeping with the Halloween vibes of October and featured a full size Becca Highlighter in the shade Prosecco Pop.
The retail value of a BoxyCharm box is typically over $100, making it more than worth the money you spent buying the box.
BoxyCharm isn't the only popular subscription service. For people who have a tighter budget there's Ipsy for $10 a month, which is primarily deluxe-sample sized products from lesser known brands.  Ipsy also has a theme card, but it does not list the products or their prices on it, which is a big grievance many people have with the bag. Ipsy comes in a cute and reusable makeup bag and not a box like other subscription services.
I had Ipsy for about a year before switching to BoxyCharm. I switched because the products were very small and I didn't find myself reaching for them as often as my other makeup products.
With both Ipsy and BoxyCharm you take a quiz before subscribing to help them personalize your box to your skin color, eye color, skin type, and makeup preferences.
I've only had BoxyCharm for 2 months now, but so far I've been really impressed with the products I've received and I've already gotten more use out of them than anything I ever got from Ipsy. The spoilers I've seen for the November box are only making me fall more in love with the service. If you want to get more into makeup or you already are into makeup then I think both Ipsy and BoxyCharm can be worth it depending on how much you are willing to spend.