Chiefs Celebrate Halloween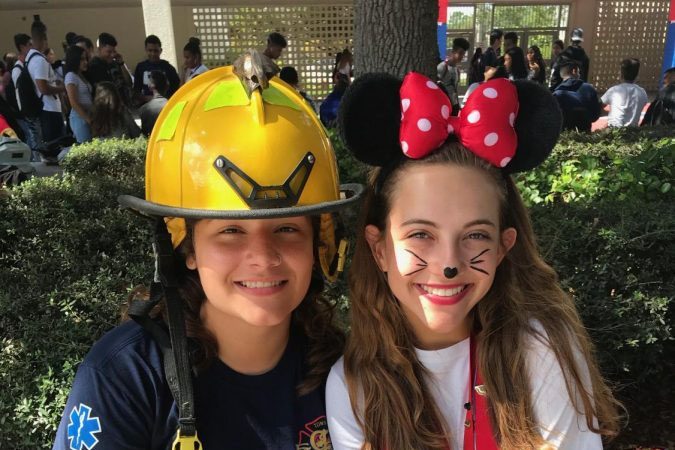 It's officially the scariest time of the year and everyone is dressed to the teeth in costumes. 
For this Halloween, Chiefs went all out. From scary clown costumes to wholesome costumes, Santaluces has got it all.
The Halloween spirit wasn't the only thing present, students all over received positive compliments over their terrifyingly terrific costumes throughout all grade levels. Here are just a few students who really have the Halloween spirit.
Santaluces Junior, Chloe Dower states what people have to say about her costume. 
"People walk up to me and say 'aw man' because of that popular Minecraft song, "Revenge", because I'm a Minecraft creeper for Halloween, I think it's pretty funny."
On the scarier side of things a student got attention because of her scary costume, and some unintentional scares at the same time.
"A lot of kids wanted to take pictures with me," said Isabella Esquivela who dressed up as a creepy clown. "I unintentionally scared some kids on my way to school today." 
Some students have been dressing up every year for Halloween and show that it is a long-standing tradition for them.
Santaluces Senior, Alexia Micottia in her construction worker costume states "I've haven't missed out on a single Halloween since I started high school and I wasn't going to miss today for anything."
Alexia Micottia isn't the only one to be this outwardly passionate about Halloween.
A junior by the name of Niazah Fierro proudly makes his own costumes for Halloween. He states "Every year I make my own costumes, This year I went with a pokemon trainer because I'm a fan of the series."
From scary clowns to construction workers, Halloween is for everyone to enjoy whether or not you have the money for a store bought costume or not. 

About the Contributor
Christopher Vargas, Staff Writer
My name is Christopher Vargas, editor of the entertainment section of The Tribe. This is my first year in newspaper and I'm already liking the class....