Chiefs Discover Sinatra at The Kravis
Hang on for a minute...we're trying to find some more stories you might like.
Students from around the county attended a performance of Sinatra and Friends at the Kravis Center and Chiefs in the Women of Tomorrow club attended. Screaming saxophones, swinging drum sticks and soft, low piano melodies — this is big band. The purpose of the Kids in the Balcony program is to expose students to the performing arts to see if they might be interested in going into this field based on their experience watching the shows.
Sinatra and Friends was performed by singer Micheal Feinstein and the Kravis Center Pops Orchestra. Feinstein's voice roared through the audience as he paid tribute to multiple legends from the jazz age and shared personal stories of times spent with them. Naturally, Feinstein paid tribute to Frank Sinatra since the show was dedicated to his memory.
"He was so generous with his art," said Feinstein to the audience. "He would pass his orchestrates onto his friends."
The show lasted a little over an hour and a half and consisted of multiple numbers by Sinatra, significant people from Sinatra's life, and people Feinstein has been influenced by as well. They included Vic Damone, Sammy Davis Jr., Nat King Cole, Louis Armstrong, Dean Martin and Bing Crosby. Feinstein was especially sentimental as he remembered Sammy Davis Jr.
"… And Frank told Sammy, 'One day, Sammy, I'm gonna be the biggest singer in the world' and Sammy said, 'Frank, I believe you'." Feinstein also mentioned Dean Martin as a great influence to him and a well-known friend of Sinatra. In fact, he even called Martin "quite extraordinary".
Towards the conclusion of the performance, Feinstein made sure to recognize the Kids In The Balcony program and then went on to allow the audience to request songs. His humor amused the crowd that was made up of mainly older people who could probably relate to the music of that time period much more than the high school students of today attending the event, the students who were invited on behalf of the Kids In The Balcony program. The audience reacted positively to the singers personality as a lot of them enthusiastically shouted out their favorite Frank Sinatra numbers when asked to.
The event was slow paced and as the act was ending, the singer mixed multiple segments of songs in with one another which, in my opinion, was very irritating since it would have been preferred to enjoy the song to its full extent instead of listening to the music jumbled together.
To me, this reminded me of a commercial advertising an upcoming concert/album by mixing only parts of some of the music together to give the viewer an idea of what they would be purchasing instead of a performance meant to sit and enjoy. It seemed rushed but, nevertheless, the audience did not appear to have a negative reaction to this since no-one got up and there was a contagious series of clapping when it ended. The experience was probably something that most high school students do not get the opportunity to witness or be apart of which is why the program is so effective.
Overall, the performance was a timeless tribute to the jazz age, Harlem Renaissance and the people who made it what is was. If you would like to be involved in the Kids In The Balcony program, check with your guidance counselor about any upcoming events you may be interested in attending to see if you are eligible to attend through the program.

About the Writer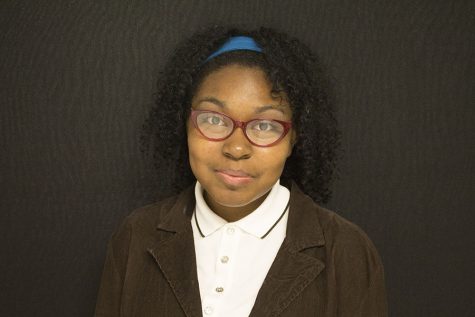 Zion Frost, Staff Writer
Hello! My name is Zion Frost and I have decided to join newspaper my sophomore year because I am interested in pursuing a career in journalism and it has been a dream of mine to write for my school newspaper. You can expect my articles to be centered around Lifestyle and Opinion. Do you have...