The Great Gatsby Prom Roars
The Prom kicked of a busy season for Santaluces seniors. This year's Great Gatsby-themed prom was held at a new venue: the Delray Beach Civic Center. The new location was a big hit, decorated with many feathers, pearls balloons and projections of flappers and men in 1920s suits.
The junior class traditionally puts on the prom for the seniors and this year, class President Kaycee Hair said they started planning at the beginning of the year.
"Prom was the greatest school function that happened this year," said Hair. "Seeing how grateful the seniors were and how much fun they had made the hard work well worth it."
Junior class sponsor and Prom adviser Mr. Yohe, got into the spirit by dressing in his own vanilla suit, complete with a yellow handkerchief.
"Thanks to Mrs. Orndorff and the junior class officers, prom was a huge success," said Mr. Yohe. "I hope all the students enjoyed all the hard work we put into it."
Assistant Principal Mrs. Orndorff helped choose the venue and guided the prom process this year from administration.
"Prom went smashingly well," said Mrs. Orndorff. "The room glowed with excitement. The students looked beautiful and overall Prom was a huge success."
While some worried there wouldn't be food at the prom, many were pleasantly surprised to find chicken and steak kabobs, meatballs and cake pops for dessert. A pudding mousse and cheesecake bites were displayed on a table. For drinks, there were fruity slushies in strawberry and banana.
"I liked the cake pops and the cheesecakes," said senior Deondre Frederick. "I was ecstatic because I was with an amazing date."
A big hit at the prom was the photo corner. Couples were able to get their pictures taken throughout the prom and received a key chain with their photo by the end of the night.
"I wanted to stay longer," said senior Kervens St. Preux. "Prom was amazing."
Senior Nicole Moresco was worried about the new venue, but her fears were unfounded.
"When I walked in I was shocked and impressed by the decorations and the atmosphere," she said.
At the end of the night, voters chose the prom king and queen. In the past, seniors also chose superlatives such as best smile and best dressed, but this year it was decided to stick with just king and queen. Prom King Bradley Bolivar and Prom Queen Caitlyn Colligan danced to "You're Beautiful" by James Blunt.
"I couldn't stop shaking," said Bolivar. "I'm glad to be your king."
For Prom Queen Colligan, she was also shocked at winning the crown.
"It was unexpected, but my smile told it all," she said.
Leave a Comment
About the Contributor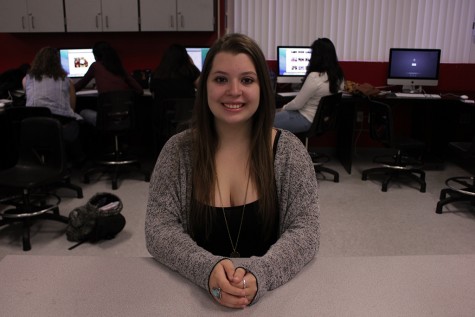 Adie Gonzalez, Photo Editor
I'm Adison Gonzalez, Photo Editor for The Tribe. Photography is one of my favorite forms of art expression, besides dance. I have been dancing for almost...