Homecoming Fashion
Homecoming week is in full swing at Santaluces and with the dance just days away, it leaves the question of what everyone will be wearing on Friday night. Some seniors may see Homecoming as the pre-season for prom and a way of testing the waters for the types of dresses you're comfortable in or your high-heel walking skills. Nonetheless, homecoming has devised a spirit of its own and its evident in fashion marketed to teens. Here are some of the places where you can find your prefect homecoming attire and the trends most likely to be seen on the dance floor.
Forever 21 
The fast fashion retailer has created a whole online catalog for homecoming dresses that range in styles, cuts and colors that will suit the taste of any girl. From traditional short or formal long, embroidery or floral print, and simple or sequined Forever 21 has it all at affordable prices.
Davids Bridal 
The wedding dress retailer is not just that but has also included a separate section devoted to your homecoming needs in their store and online where you can find the prefect dress. They even included a trend breakdown of their choice, which includes statement sleeves and wine shades.
The mall is the prefect place to find a homecoming dress because almost every store sells dresses. So keep your options open and you may find your dress at H&M, Macy's, Nordstrom, Charlotte Russe or Dillards. Also, you can even find online stores that offer discounted prices on dresses but make sure you order in time for the big night.
Trends
Traditionally, short cocktail dresses are the go-to for homecoming and that still is the case, but changes in fabric choice and detailing are making a break through for the 2017 homecoming season.
Velvet 
The soft smooth fabric gives off an expensive look and has been the fabric of choice for the fall/winter season.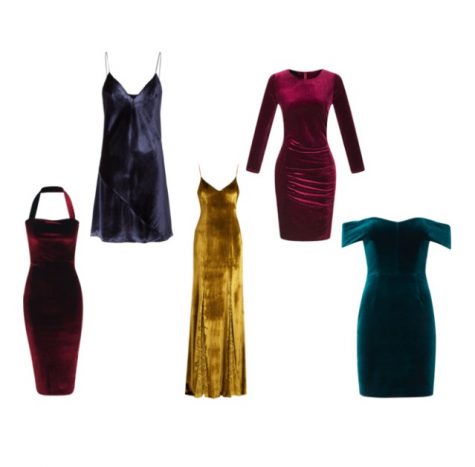 Sequins and Sparkles 
The sparklier the better. With shorter dresses sequins are great to add that extra touch to an otherwise plain dress.
Embroidery 
Gucci put embroidery back on the map with their collections this year and the trend has been replicated all year, so of course its going to make an appearance at homecoming.