How Hiking Yosemite Humbled Me
It Never Goes As Planned
My backpacking trip this summer was cut short by a day. I wanted to test myself; I wanted to be off the grid for five whole days. That's usually the mission between Ryan, my lifelong friend, and I. We spend anywhere between two to three months planning our epic excursions, and so far we've accomplished four of them including southern Alaska, western North Carolina, central Washington state, and central California in the infamous Yosemite National Park. That's where this particular hike takes place, so be warned.
The two of us had the most thought out itinerary: four miles the first day, eight the next, then five and the last twelve miles were supposed to be split into the final two, easiest days of hiking.
However, after our first 4,000 grueling feet of vertical climb with 47 lbs. on our backs, we faced harsh reality under dreamlike conditions. Our JetBoil broke, presumably under the pressure of a rattling pack, so our dinners for night one went uneaten. It was too dark to search for wood, kindling and our magnesium fire starter, so we munched on bite sized Kind Bars in lieu of dinner under the clearest sky you could imagine. Twelve shooting stars were counted on an empty belly, but they were enough to send us to sleep with happy minds.
Morning came quickly and we gathered wood and started a campfire. We boiled our water, ate our breakfast and began the most arduous day of backpacking of my life.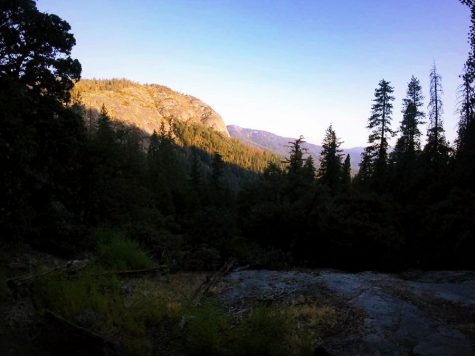 Calories Matter
They do.
I am convinced that on our last trip, to the Central Cascades, our lives were saved by Haribo. Yes, the gummy bears. I am a light snacker when it comes to physical activities, so I brought corn nuts and sunflower seeds. My mom bought me a pack of Golden Bears for the plane ride, which remained unopened until halfway into our multi-day hike in central Washington. We were on the brink of collapsing when Ryan told me to break out my gummy bears, so I did what any sensible 16 year old would do, and obeyed the much stronger man out of fear that he would eat me without hesitation. The small boost every so often provided us with the momentum to carry on.
However, this particular Monday, I did not have my gummy bears. I left them in the car before setting about. In hindsight, five ounces and $1.79 is a very small price to pay to endure a nine mile hike with 5,300 feet of elevation gain on a dry California day.
Without our dinner from the night before, and only a small breakfast, we estimate we burned well over 5,000 calories and consumed a mere 200 each until lunch. Nevertheless, for the first six hours that day, there were frequent stops, many thoughts of doubt, feelings of remorse and a self hatred for thinking that I'd be stronger than gummy bears. I am not.
There's Always Something
Later that day, with hanging heads we emerged from the canopy covered mountain top and I noticed something a little peculiar–something I've never seen in Florida. Our shadows were cast on an orange-tinted ground, but the dirt was an off-white. Peering to the sky, I noticed a rusty cloud of smoke impeding on a crimson sun. Amazed, I pointed it out to Ryan. Right as he turned to look, we both had rising interest on what was falling from the sky. Ash.
Luckily, we were nearing the peak of the mountain at 9,370 feet, so the descent down to Johnson Lake offered a more preferable form of escape than going uphill.
A report stated that our location was a healthy 20 kilometers away from the forest fire, so we spent the night at Johnson Lake.
Skipping day three, on the fourth day, we were planning to do six more miles on a gradual descent in order to save the final six miles for day five. Alternatively, Ryan and I pushed for 12 miles, and day five on that mountain ceases to exist.
And Here's Why
The forest fires began drifting dangerously close. At one point, we were a shy 3 kilometers away from the nearest one.
At that point, there is no hoping that the fire spreads north instead of south over night. Fires spread out. It is the most lively inanimate element on the planet, and that needs to be understood. There is no fighting it. We were on our own. Trusting that we were safe inside a tent overnight and waking up to clear skies in the morning was not an option, because nature, as breathtakingly beautiful as it is, will truly rob you of your last breath.
We debated for a solid 10-15 minutes about if we should turn back uphill after four hours of a 3,000-ft descent or continue west and cut onto a different trail.
We decided to ramble on westward on the descent for a few more miles until we reached a fork in the trail. We ate our lunch and continued.
Eventually, we were stopped in our tracks. Pink tape blocked off our path. "CLOSED 8/12 – 8/14," it read. Well it was August 15th.
Yes, that is correct. It was a bad idea to continue anyway.
About a third of a mile into the taped off path, a fiery glow of Sequoia trees lined our trail and my heart sank. I looked back at Ryan right as the crackle of bark flooded the forest and he yelled "run!" So we did.
Never in my life have I thought to be so vulnerable.
Unsuspecting Life Saviors
After successfully running for our lives, in every sense of the phrase, we high-fived and continued to make the three, or four more mile trek to the nearest road that ran through the mountain. We figured we had been about an hour and a half car ride away from base, so we swallowed our pride and stuck out our thumbs. It had been a while, until a blue Honda Odyssey pulled over.
It was a loaded van driven by an extremely generous Chinese family. Only the son spoke English, so he translated for us. They offered us bottled water and willingly drove us to the ranger station which was actually 2.5 hours away, plus grandma required a few extra stops so she could throw up. I'm not entirely sure why, but again, very small price to pay. The family would only be in town for two days while visiting in the United States, although the son is currently studying computer science at Duke University.
Anyway, this stroke of fortune was one of many that proved we have more coming. It has also granted us, myself particularly, the knowledge and understanding that no man is invincible, however, every man has the possibility to feel on top of the world.