Madison Elia: Swinging Into Senior Year
Santaluces senior Madison Elia began golfing when she was five years old and fell in love with it instantly. It was a way to bond with her dad and learn many life skills including focus and manners. Twelve years later, Elia is now on the Santaluces varsity golf team and is dominating the game being the only girl on the team.
In her freshman year, Elia made the varsity team that consisted of all seniors. She had an amazing season and got the chance to play at regionals. Impressively, Elia did a repeat trip to regionals her sophomore year as the only girl on the team. Although she was a team of one, Elia proved she could hold her own and she continued to do so her junior year as Elia took on the challenge of playing with the Santaluces boys varsity team.
"It think it's amazing that I got to play alongside the boys. They were good competition at practice because they gave me the opportunity to swing harder than them and prove I could hold my own," said Elia.
Going into senior year, Elia is now the only golfer on a team at Santaluces but that's not stopping her from having a good season. Elia wants to show people that golf is a demanding but fun sport that everyone should try. Elia's noticed that as the years go on, less and less people join teams at many schools in our area; she hopes that people become motivated to play once they learn what the sport is truly like.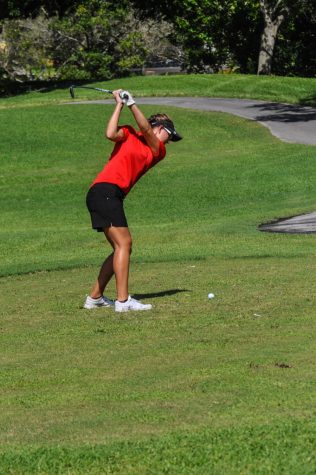 "It's an extremely addicting sport. There is this exhilarating feeling when you hit the golf ball perfectly and your swing is spot on. And hole-in-one's are like the icing on the cake." said Elia on the sport.
Elia's future plans for golf have shifted over the years. She once had a dream of playing in the LPGA( Ladies Professional Golf Association) and going pro. Now in senior year, Elia has found other passions in photography and journalism that she wants to pursue but don't count golf out of the picture. Elia still plans to keep golf in her life. She may play in college. She may not. But one thing for sure is that golf will be in her life forever.
Elia says, "Golf will be in my life forever. It is still the best way to relieve stress, especially in college. I met new people and learned new things through golf. I just don't see my life without it."