Meet the Teacher: Mrs. Capre
September 13, 2019
Coming from Broward County Schools, Mrs. Capre is a new reading teacher here at Santaluces. Through her fourteen years of teaching, Mrs. Capre knew she always wanted to become a teacher ever since she was ten-years-old when she would teach her Barbies and Baby Alive. Despite the unfortunate event of her parents passing away during her senior year, she attended Florida Atlantic University knowing she wanted to stay close to home and push through the obstacles in life she endured.
Now married and with three boys of her own, Mrs. Capre enjoys shopping and writing poetry as well as short stories when she has time. Even though she has not been able to write for a while, she still displays a Halloween Short Story contest award on the board by her desk that she won in middle school. Ever since this accomplishment, she knew she had the talent to write and would continue to shine her light through her work.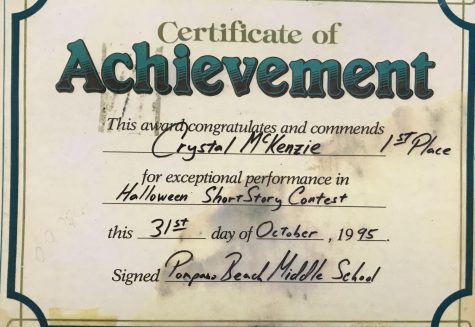 As a person in society, many people tend to live by a certain quote to get them through their tough times. As for Mrs. Capre, she lives by the verse found in Philippians 4:13, "I can do all things through Christ who strengthens me." With this, Mrs. Capre loves the poem called Our Deepest Fear. She feels that through this poem she assures herself she is powerful beyond measure, beautiful, smart, and most of all she will let her shine through everything she does.
As a new teacher at this school, Mrs. Capre is most excited to 'help students identify and overcome their areas of weakness in reading.' So far she enjoys 'the culture, the community, and the support from administration, fellow teachers, and students' at Santaluces.