Local Eats: La Perrada del Gordo
La Perrada del Gordo is a local restaurant waiting to fill your cravings for authentic Colombian food. Located in West Palm Beach, this restaurant was created by Elizabeth Novoa and Miguel Martinez, a mother and son duo. They started by renting a mobile hot dog cart and have risen to own two restaurants, the other located in Boca Raton.
Their menu consists of perro-huevon, arepa-toda, ceviche, chuletazo, arepas rellena, maizitos, salchipapa, empanadas, and their most famous item the Gordo burger. For only $6.75, the Gordo burger contains your choice of beef or chicken, garlic sauce, pineapple sauce, mustard, ketchup, cheese, tomato, and bacon.
Personally, I enjoyed the taste of the burger. Although I do not like bacon, if I were to order the item again, I would ask for it without the bacon. Overall, the Gordo burger was flavorful and juicy. Seeing how they make the burger in front of me, I saw how fresh the food was unlike regular fast food restaurants. Senior Yash Patel remarked, "Compared to any other burger I've tasted, the Gordo burger surpasses them all. The burger was mouthwatering and had a great bite. Combined with the Colombian soda, the meal is extremely satisfying."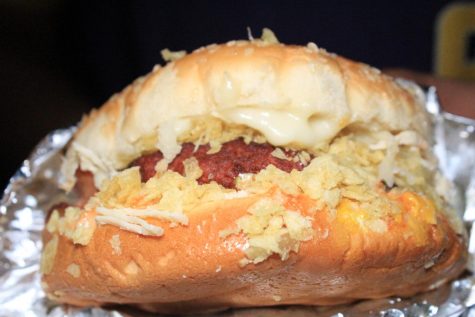 The lobby offers about ten tables where visitors can sit and eat or simply wait while their food is being made. Gordos offers online ordering for pick-up or dine-in. The wait time for a Gordo burger is around five to seven minutes and may take longer during rush hour. For Chiefs craving a juicy, delicious burger, La Perrada del Gordo is ten minutes away from school and eight minutes from Palm Beach State College.
Address: 2650 South Military Trail West Palm Beach, FL 33406
Phone number: 561.968.6978
Hours:
Sunday- Thursday 12:00 pm – 12:00 am
Friday- Saturday 12:00 pm – 6:00 am
Visit their website for more information: