Nightwing #74 – Joker War Collateral Damage
Richard "Dick" Grayson is an iconic character among DC Comics fans. He was the first Robin to help Batman with his fight for justice in Gotham City. However, after being Robin for many years and wanting to forge his own path, Dick decided to leave the mantle and adopt a new identity – Nightwing. He began his career as a solo vigilante in Gotham's neighboring city, Blüdhaven. 
Writer Dan Jurgens and artists Ryan Benjamin, Richard Friend, and Rain Beredo, continue their spectacular run of Nightwing by adding their own tie-in for the Joker War series. 
The Joker War Collateral Damage tie-ins, revolve around the Joker War arc in the current Batman run. The tie-ins focus on a character of the Bat-Family as they confront the Joker and his new partner Punchline, along with their evil plans, either by themselves, or (most likely) with the help of the Bat-Family. 
Nightwing #74 details "Ric" Grayson (Dick Grayson), Red Hood (Jason Todd), and Robin (Tim Drake) fighting Joker's henchmen; the team attempts to disarm a bomb in a hospital that the henchmen are protecting. Seconds into the fight, Robin and Red Hood realize that Ric is being controlled by Joker through a crystal that makes him believe he is Joker's son or "Dickyboy" as his "father" affectionately calls him.
"Dickyboy" punches and kicks Red Hood and Robin down to the ground; the two swiftly recover and reluctantly, fight Ric back. Quickly forming a plan, Red Hood decides to distract his brother by fighting him and tells Robin to disarm the bomb inside the hospital. 
Joker and Punchline are on the roof of a building in front of the hospital happily watching the brothers fight each other on the ground below. With the crystal around his neck, he tells Punchline that his plan is working – he has full control of the kind-hearted hero, and will turn him rogue. 
As the duo continue laughing at the brawl, Batgirl makes an appearance by kicking Joker and Punchline square in their faces and grabbing the crystal from Joker's neck. She then swings down to kick Ric, just as he was about to shoot his brother. 
In an attempt to stop Ric from hurting anyone further, Ric's girlfriend Bea tries to convince her boyfriend to stop fighting his family and realize that the crystal has been manipulating his mind. 
A few moments after, his memories begin to rush back; he remembers his dead parents, his time as Robin, and his new family. He shatters the crystal and is relieved to be back to his old self. He will now return as Dick Grayson and Blüdhaven's hero: Nightwing. 
View Comments (1)
About the Contributor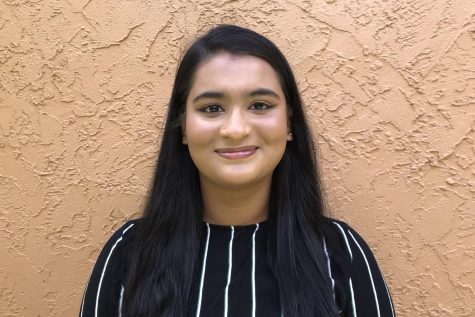 Maliha Rahman, Staff Writer
Hello! My name is Maliha Rahman! I'm a Senior this year, and I can't wait to graduate and explore the world. This is my first year being a writer for...