Swimming Against the Current
Swim season is in full stroke as the SHS swimming Chiefs are now midway through the season, completing three of their six meets. There is however a noticeable difference this season in comparison to last.
The current team is a very young and arguably inexperienced group in comparison to last year's squad of 23, most of which were seniors. In addition, the team lost five-year swim coach veteran Ms. Johnson. The beginning of the season has been choppy at best for the young team that this season introduced 17 first-time competitive swimmers to the 2017 team.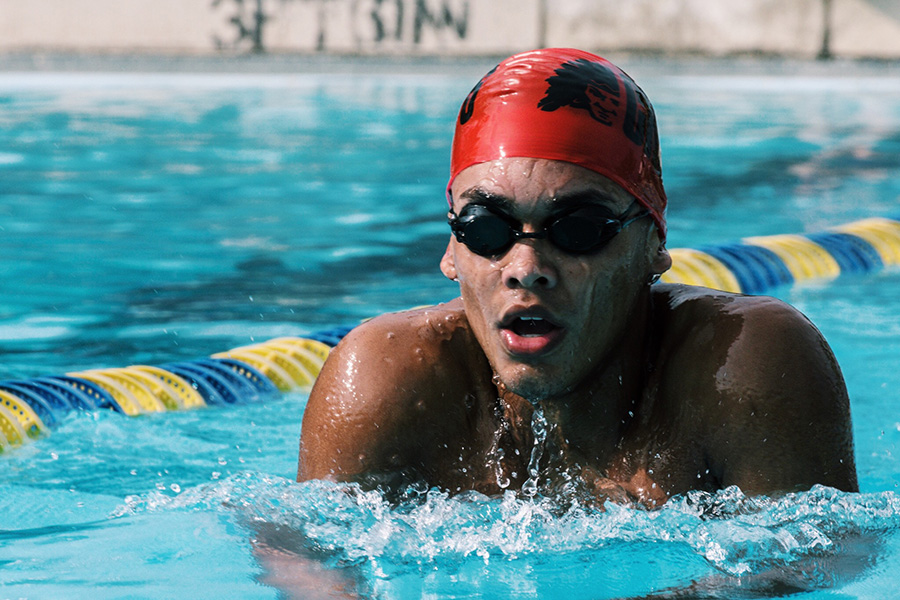 Ethan Mansdorf
But, regardless of the new faces that comprise the small team, senior swimmers who have graced the roster in past years have stepped up to train the newcomers to be as efficient and fierce as last year's squad.
"It has been a wonderful opportunity to be able to be their captain and teach them all that I have leaned after swimming for 14 years," said swim captain Victoria Konsavage. "Swimming competitively is such a rush and to teach them the skills to do their best in the pool makes these past years worth it."
And first year swimmers are enamored with the team regardless of experience level.
"Being on the team I've not only learned how to improve my swimming, but I've also met some amazing, talented people," said first year swimmer Luke Kurtz. "I only wish I had done this sooner, but even though this is my last year I will remember this time and the friendships made."
Where the team may be lacking in expertise, they have captured the essence of what a high school sport should be. It is supposed to be a fun and exiting way to meet new friends, stay active, and get involved all while doing something out of one's comfort zone.
Ethan Mansdorf
"The team has really bonded and become a family," said Sophomore swimmer Haily Velong. "Everyone supports one another and we always cheer each other on regardless of win or loss."
New swim coach
"It's been awesome, they are all eager and exited to learn," said first time swim coach and math teacher Ms. Clawson, "Every meet our times go down which means we are going in the right direction."
With only three meets left, the team has some making up to do, but with their level of cohesion it would come as no surprise if they turn the tide in their favor.