Santaluces Homecoming Proposals
On the heels of a very successful homecoming night this past Friday, there were several homecoming proposals that still have everyone talking. Everyone chose a fun and unique way to propose to their partner, but here are a few highlighted proposals that have happened recently.
Mario Rodriguez and Katherine Ticas
This Junior couple has known each other for a long time as they went to the same church school growing up. Though, as time went on, they grew apart but were reunited during their Freshman year here at Santaluces. Their relationship was rocky at first since they weren't friendly going into Sophomore year, but eventually, they became friends again.
With Homecoming approaching, it was a no-brainer for Mario to ask Katherine to go with him. To gather some inspiration on how to ask, Mario asked some of Kat's friends how he should ask her. Mario made the poster while on facetime with Katherine and bought flowers and a bear for her.  Then, in the courtyard, before class began, Mario, with the gifts and poster, asked her to homecoming to which she said yes. She sensed that he was going to ask since he kept asking questions like "do you like flowers?" and "how long do flowers last in water?" When asked how she felt being "proposed" to in front of everyone she says, "It was weird but in a good way… I was in shock but I enjoyed it a lot."
Rafael Sano and Lillyann Clarke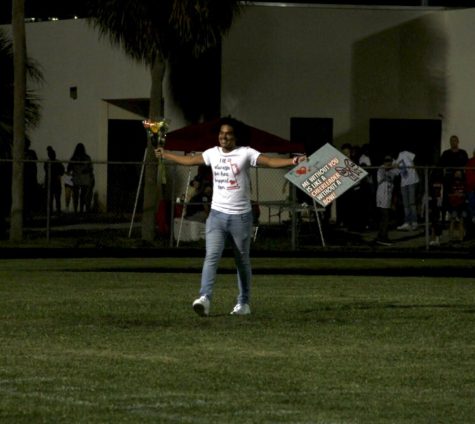 Lillyann Clark and Rafael Solano have been together for six months and the proposal was unexpected. At first, he was unsure what he was going to do, but he convinced the cheerleaders to help.
The Chop Squad was used as a distraction and the announcer told the crowd to pull out their flashlights. The cheerleaders did flips and tricks coming out of the field followed by Rafael, who had flowers and a sign reading "Me without you is like a cheerleader without a bow." He had one of her favorite songs by The Weekend playing and had confetti cannons. She had no idea it was coming and was absolutely shocked. She was overwhelmed and at the same time was glad her cheer team was a part of it since those are some of her closest friends.
These happy couples have now gone to Homecoming together, leaving with exciting memories that will last a lifetime.