An Honest Review Of The New Television Hit "The Masked Singer"
February 4, 2019
It isn't very often that a television competition show has unicorns, aliens, and one-eyed monsters prancing around a stage. But The Masked Singer has rocked the nation with a singing competition like no-other or so they say. Is this show worth the hype? Or is it overrated?
The Masked Singer debuted on January 2nd of the new year and was an instant hit having America ask "Who's under the mask?" The show has its own guessing panel of celebrity experts including Robin Thicke, Jenny McCarthy, Ken Jeong, Nicole Scherzinger, and recently added Joel McHale. The term "expert" seems to be used rather loosely as each week the panel seems to be pretty far off with their guesses. This panel seems more of comedic relief although the entire show is a bit of comedic relief with Grammy, Oscar, and Emmy winners dancing and singing in masks and costumes making this "expert" panel kind of useless.
Besides the pointless judging panel, the performances themselves are quite entertaining. Some of these hidden celebrities have amazing voices and others have a voice nonetheless but the heart they put into it makes them stand out. Each singer performs in a unique way; some choose to let their voices speak for themselves in which they stand with a microphone while others have an elaborate performance with dancing and fast pace music. Regardless of the performance style however, each singer is exciting to watch.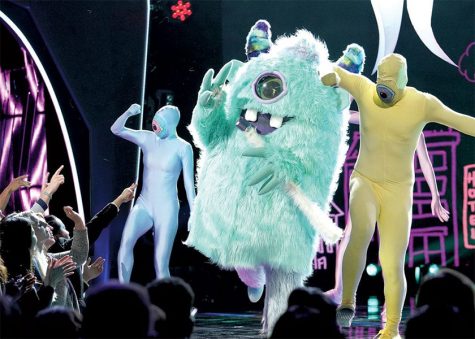 Entering its sixth week, the show has become less impressive. Each singer has performed nearly three times with three different songs but it's all starting to look the same. They have the same costumes, the same voices, and the same clues and guesses from the judges. With the show needing something new just five episodes in, season two may need to come sooner than expected as season one has become a bit of a bore. What does remain exciting is the many theories circulating the internet about who is under the many masks. Although the show may be becoming uninteresting at this point, I do recommend watching the first few episodes and joining in on the theories.
The Masked Singer airs Wednesdays at 9/8c on FOX.