Apple Announces Three New iPhones
September 21, 2018
Fall 2018 is here. That means cool weather, changing leaves, and new iPhones. Apple announced at their fall iPhone event that there will be three new iPhone X's. Since Apple came out with the iPhone X on its tenth anniversary, questions started to arise as to what they would do next. Well, Apple decided to go bigger, faster, and more colorful with the iPhone Xs, iPhone Xs Max, and iPhone Xr.
The first new iPhones are the iPhone Xs and the iPhone Xs Max (shown above). Both phones are upgraded versions of the iPhone X with new Super Retina technology that enhances the display quality. The new phones also have custom OLED panels that allow the phone to have the best color accuracy and better resolution than any other iPhone. And, the iPhone Xs Max is the biggest iPhone yet.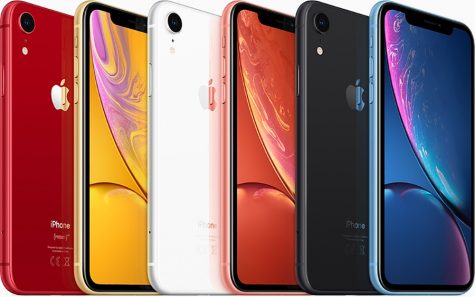 The second iPhone release was the new iPhone Xr. The phone comes in six different colors: red, yellow, white, coral, black, and blue. The iPhone Xr has Apple's newest screen technology called Liquid Retina. This creates a bigger screen than ever before while still keeping the phone at a size similar to the iPhone 8. The phone also features light sensors that give any picture on the screen a natural look.
The iPhone Xs is available now for $999. The iPhone Xs Max is available for $1099. The iPhone Xr is available for pre-order for $749.