Santaluces Takes On Broadway: The Hamilton Experience
January 18, 2019
Last year, Santaluces' AP U.S History teacher Ms. Mangone said she would try and bring her students to see the Broadway musical Hamilton. And, through the Gilder Lehrman Foundation she was able to do so. The U.S History students worked hard and learned parts of our country's history through the works of Hamilton; and as a reward, they had the pleasure of seeing the play at the Broward Performing Arts Center.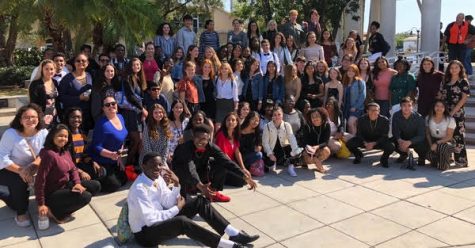 Nearly a hundred students got to attend. Many had listened to the Hamilton soundtrack on end and many hadn't listened to it at all until it was introduced in Ms. Mangone's class. Regardless of their prior knowledge, every student seemed to enjoy the show.
One of the students who went, Sabrina Zax said " I didn't know about Hamilton until my teacher [Ms. Mangone] showed me but I was very surprised by the performance and I really enjoyed it."
When asked if she enjoyed it Madison Lewis said " I absolutely loved it. It was a once in a lifetime experience that I hope I never take for granted."
Not only did the students enjoy it but the chaperones did as well. Many were history department teachers and some were administration
Our ninth grade Dean Mr. Ramos said " I'm obsessed with it! I love Lin Manuel Miranda[the creator of 'Hamilton'] because he's such a positive person. It makes me so proud to be a Puerto Rican being that he's from Puerto Rico."
Not only the did the Chiefs get to see the show but some got the opportunity to be in the show.
Each student made a piece to enter in a competition for the chance to perform that piece on the stage. After weeks of preparation, the students presented and Ms. Mangone chose Hailey Velong's and Ines Seymour's piece to submit into the competition. The girls did a spoken word and interpretive dance piece on Deborah Sampson who is a woman that disguised as a man to fight in the Revolutionary War.
Ms. Mangone said, "I chose them because they chose a unique person to portray and a unique way to portray her."
Needless to say, the Chiefs had an amazing time and got the chance to have a once in a lifetime experience that they will never forget.