2018 Winter Concert
The Santaluces Chorus and Band performed their winter concert Friday night
December 14, 2018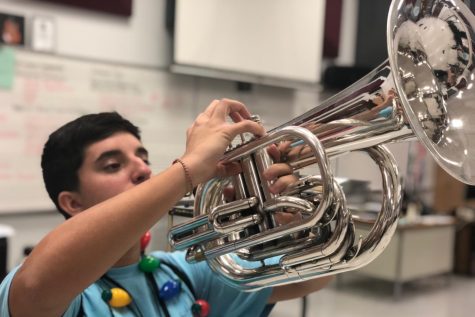 The Santaluces band and chorus put on a performance on Friday night at their annual winter concert. The concert featured many performances, from rock bands to guard solos.
The PAC was packed, with every seat filled to enjoy all of the hard work and dedication these Santaluces art students put into their work.
Jesus Gomez, senior and drum major for the Marching Chiefs, reflected on why he loves conducting the band:
"I love the feeling of being able to conduct great music."
Jesus Gomez took a lead of the band for the past month, taking a lead in musical practice and organization of the band.
The performing arts allows students at Santaluces to gain new experiences, and the thrill of a concert cannot be conquered.
Chorus and band student, Franklin Ticas describes his experience within the performing arts at Santaluces:
"[Being an instrumentalist and vocalist] starting this year has really opened my variety of how I can express myself."
If you missed the winter concert, you can watch the Lake Worth Christmas parade this Saturday, in which the Santaluces Marching Chiefs will take over the streets to perform winter music hits.