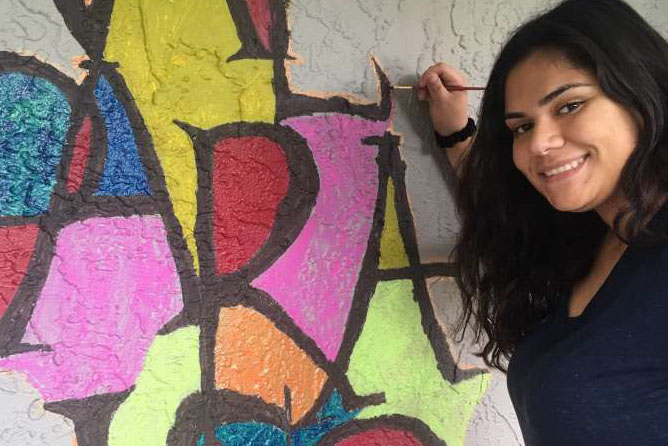 Marcela Alfaya
As Spring Break approaches, we are each forced to think about how we'll be spending it. I've been thinking about it for a while, struggling between doing something extravagant or just staying at home in my couch the whole break. With a small budget and too much free time, I wanted to relax both by myself and with a few friends. Nothing interesting came to mind until I walked passed something in my own backyard.
A few months ago during the summer, I had an aunt from my mother's side come down from New Jersey to visit. Her and my mother are very prideful in their Chilean roots and love sharing stories about their childhood memories in Chile. Something that seems to be a constant recurring trait on my mother's side of the family is unbelievable artistic talent. With those two features in hand, my aunt set out to create a mural on the wall of the poolside patio in my backyard. Valparaiso, the city where half of my family is from and also what word my aunt painted onto our wall. Ever since I saw it, I've been in love with the idea of filling up the entire patio wall with more projects. The only thing stopping me was the incredible lack of time and motivation.
Now, with Spring Break right around the corner, I have more time than ever to let my creative juices flow. With acrylic paint only 50 cents for 2 fluid ounces at Walmart, I don't have to worry about spending an arm and a leg to finish what my aunt started. I plan to include a lot of Chilean influence and culture in my art. At the end of the day, I just want to create something nice for my family and I to look at when we're hanging out by the pool.