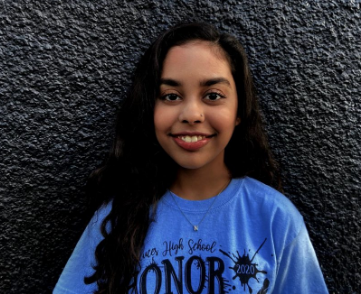 Nafiah's Quarantine
During this time of uncertainty, it's important to heed the advice of professionals and to stay calm. It is everyone's collective responsibility to stay home as much as possible and take precautions to slow the spread of COVID-19. I personally have been enjoying self-quarantine and the beginnings of distance learning.
I started out with the break from school anxious about missing so much time, especially since we are so close to exams. Even teachers were awaiting answers from the district and abroad from AICE and AP programs along with us. However, slowly but surely we all got the information we needed and proceeded to learn with online schooling. 
Staying at home with so much time on my hands has been such a strange change of pace but it's also allowed me to take up some hobbies and activities that I have not had time for recently. For instance, I have been swimming in my pool, riding my bike, and playing board games with my family more in the past few weeks than I have in the past few months. 
At times, it does become overwhelmingly frustrating to stay in one place twenty-four seven. Before teachers started giving assignments again, the days started running into each other and they hardly had any structure. I found myself taking multiple naps in a day, most by accident. But all of that changed when one of my teachers sent the first Google Meets invitation. My sleep schedule, in particular, benefitted from the normalcy of having classes so early in the day. 
Other than binge-watching shows and having the time to make elaborate breakfasts in the morning, my Corona break has felt like the equivalent of one long weekend. So although I would much rather be at school and able to see my friends in person, staying at home has been more or less of a good thing for me.