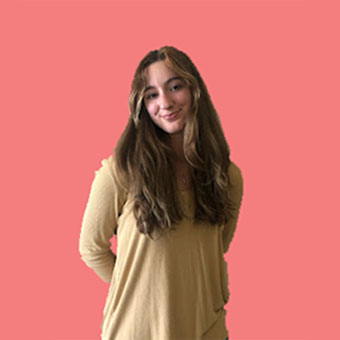 Ariana Jordan Bevilacqua
Ariana Jordan Bevilacqua wanted the AICE Diploma to get the Bright Futures scholarship in order to be financially supported throughout college and have the chance to receive college credit. Her journey in acquiring the AICE diploma was not easy to the point where her sleep and time were sacrificed in order to complete all of her work. What helped her overcome all of that was surrounding herself with peers that had the same goals as they helped each other out. Also, keeping the end goal in mind to prevent herself from getting overwhelmed and discouraged helped.
Her favorite AICE class was AICE Literature A level with the "amazing and brilliant" Mrs. Schroader due to its "insightful, engaging, and intimate discussions." She likes that the class is up to interpretation and that they are focusing on Emily Dickinson, enabling her to see the patterns and themes that are prevalent throughout the poems. She has gained a very memorable experience that has helped her personally and academically because it has pushed her in her poetic skills.
There were opportunities in class like open mics that give students the chance to express themselves. Ariana has personally written ten poems and began journaling due to that class. Her advice to anyone who wants the AICE Diploma is to acknowledge the gift of the AICE Diploma and to keep that gift as a mindset to persevere since it's worth it.