Fair Foods For Chiefs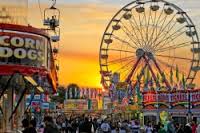 Since the fair has begun, many students  have been anticipating the delicacies that the fair has to offer.  

Many enjoy all of the food it has to offer such as the fried cheese balls and the turkey legs. Students such as freshmen Daniela Mendez said that it was over whelming and that it was super crowded.  The food is not necessarily healthy, so be prepared for heartburn, and if your going on rides, just hope for the best.
The fair offers many great things from fried Oreos to the Gravitron.  Next time you go to the fair, students, remember to eat until you barf.
Leave a Comment