Consider Grad Bash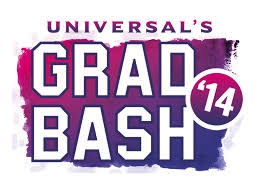 Once again the trip that every senior dreams of is a few months away … Grad Bash.  Now, anyone who doesn't know what Grad Bash is, has either been a victim of little information or has been living in a cave his/ her whole life. While Mr. Woods has not announced when tickets will go on sale or the price, administration has said the date will be April 25, roughly a month after Prom and a month before Graduation.
Grad Bash is a night-long experience, which usually costs about $110 for seniors, where Universal Studios and Islands of Adventure open their parks for a variety of high schools all over the country. This year's acts will be announced closer to the date of the event.
Universal does have a couple of requirements for anyone planning to go, especially when it comes to dress code.
The dress code rules may be two pages long, but it really isn't as bad as it seems. For girls, the dress code consists of dresses, skirts, capris, or Bermuda shorts "NO SHORTER" than mid-thigh. Other acceptable clothing for the women are casual blouses and tops with sleeves at least "3 INCHES WIDE." For shoes, the girls can wear tennis shoes, dress sandals, boots and flip-flops.  Women may not wear clothes that expose too much skin or are considered "not school appropriate." These include bathing suit tops, bottoms, or see-through clothing of any kind.
For the men, casual pants or shorts including khakis or jeans "secured at waist" are acceptable. For torso attire, shirts with sleeves, golf/polo, dress shirts, t-shirts, dress suits and jackets are okay. Men, can not wear tank tops or under shirts with straps less than three inches in width. Cell phones and cameras are recommended and acceptable.
Universal won't allow backpacks of any size, type or style. Also, briefcases, hip packs, camera bags, tote bags and over-sized purses, no longer than 8.5" x 5.5" or the size of about a half sheet of paper will not be allowed.
Students may not bring accessories that can be used as weapons. For example, chains, spiked collars or belts, sharp objects, or jewelry will not be allowed. Also, no gang-related clothes and obviously no clothes that display drugs or alcohol.
Seniors who have a hunger for fun and can follow these rules should plan to buy a ticket. For any questions or concerns students should consult Mr. Woods, who is in charge for the trip.
Leave a Comment