2018: A Year of Destructive Tropical Cyclones
The 2018 Atlantic hurricane season was no force to be reckoned with. Disastrous storms flooded the headlines all around the country, storms forming one after another. The East coast was slammed with tropical cyclones all throughout the 6-month long season, of which runs from June 1st to November 30th.
Alberto was the first to be formed in this year's hurricane season. The subtropical storm formed in late May, before the hurricane season even started. This storm was not only the first, but the first to make landfall and foreshadowing a very long and disastrous season ahead.
Beryl rolled along in July, picking up steam in the warm Atlantic waters and becoming a hurricane relatively early in the hurricane season. The significance with Beryl was when it impacted the Dominican Republic as a low-pressure system, bringing heavy rain to the country.
Chris created a lot of panic for the East coast in July. Chris formed off the East coast of the US and made a turn close to the shoreline of the US. As a hurricane, Chris did not impact any land directly, but instead made rough ocean conditions near the coastline of much of the East coast.
Debby and Ernesto came without an impact, as they were simple storms in the Atlantic with no threat to land during their lifespan.
In late August, a strong low pressure system started to be tracked coming off the coast of Western Africa. This storm, dubbed Florence, started to move West, gaining strength as it moved along. Florence grew into a powerhouse of a hurricane, moving into category four status, before weakening back into a tropical storm due to the strong wind shear that the hurricane faced. As the storm moved along, it eventually reached warmer waters and areas of the atmosphere where wind shear was not as dominant. Florence once again strengthened into a category four doing so at a rapid pace. As Florence was about to make landfall, the hurricane weakened into a category one hurricane. Once over land, Florence weakened gradually, and the focus shifted from Florence's wind to the rain that Florence would bring. The storm moved very slowly over the East coast, and created lots of panic as rivers overflowed and rains drenched several states. The impacts Florence left behind were clear. Houses were flooded, and many had died due to the impacts.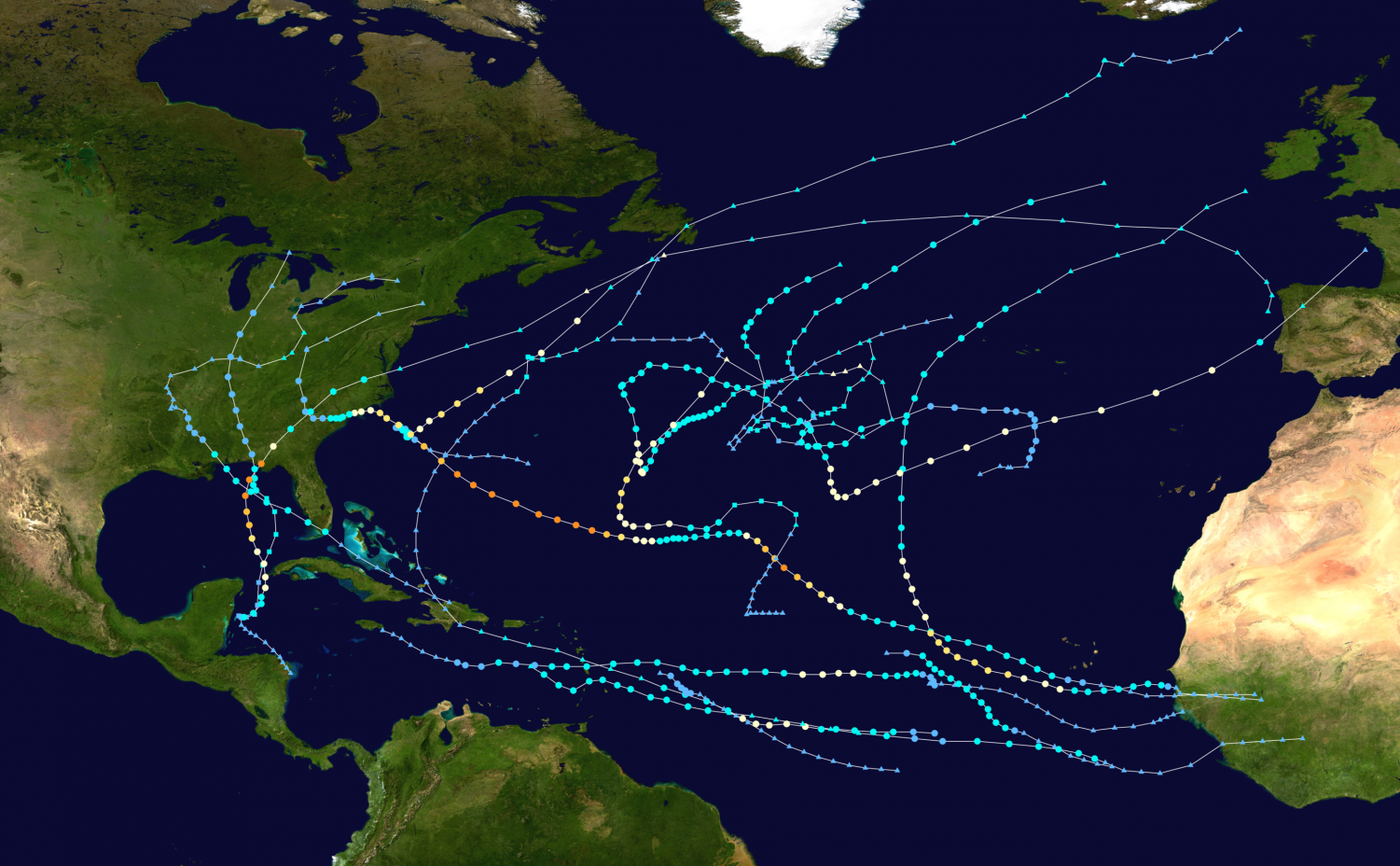 As September came along, Florida experienced its second tropical cyclone of the season. Tropical Storm Gordon quickly came and passed over South Florida, bringing heavy rains and tornado warnings all across the state.
A series of a few strong storms, with a few weak ones along the way, came and went in the Atlantic, none impacting the US or surrounding countries. These storms are named Helene, Isaac, Joyce, TD11, Kirk and Leslie.
As destructive as the 2018 hurricane season had already been, there was one last storm that wreaked havoc to Florida: Hurricane Michael. Michael formed in the Caribbean Sea, moving Northward, much like most hurricanes out of the region do. Atmospheric fronts and pressure systems allowed Michael to lift into the Gulf of Mexico and rapidly intensify into a category four hurricane. Michael slammed into the Florida panhandle with 155 MPH winds, two off from a category five storm (category five storms have winds of 157+ mph). Michael left a lot of damage behind to whoever fell victim to its very strong eyewall.
Nadine and Oscar were the last two storms of the season, not impacting any land. Oscar marked the last storm to form in a fairly active 2018 hurricane season.
There can be several key points taken from the hurricane season that is now behind us:
The power of communities coming together can be seen in the time of crisis. The power of many acting as one cannot be broken by any outside forces, no matter how strong they are.

It is very important to be prepared at all times, in case a storm forms quickly and unexpectedly. Always have a plan and have supplies ready if you are to stay in place during the storm.
As this hurricane season has come to a close, it is time to prepare for next year. Make any structural improvements necessary and prepare emergency supply kits months ahead of the start of the hurricane season. When a hurricane strikes, it's better to be prepared than to not be prepared.