The Online Media Center
More stories from Chwoeger Charleston
During the pandemic, students have lost their privilege of easy access to books through the Santaluces Media Center. They can no longer physically explore the library and check out books that spark their interests or easily obtain textbooks essential for class. Fortunately, Ms. Moe and Ms. Reeves, the library's media specialist and media clerk, are providing students with an option that makes it easier for them to access the school library and check out books.
Students have the opportunity to browse the media center remotely and check out books through the Discover Destiny site on their student portal. They only need to search "Destiny" in their portal and they will be able to search for books and place them on hold. More clear instructions are provided below: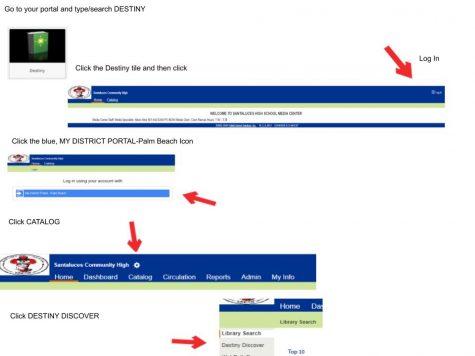 You will see the book covers in Destiny Discover and can search for author, title, or subject. There are also some EBooks available that you can read on your device. Make sure the green triangle "IN"  is visible, meaning that the book is available. If it is "OUT" you can still put it on hold, but you won't be able to get it until the book is returned. 
For brick and mortar students on campus, Ms. Moe or Ms. Reeves will deliver the book (s) on hold to the student's English teacher. Remote learners will have to email Ms. Moe and arrange a day and time after school to pick up their books. She will bring the books to the car in the parking lot. Book pick up is available Monday-Thursday from 3:00 – 8:00 pm, but arrangements must be made ahead of pick up. If you have any questions, email Ms. Moe.
Leave a Comment
About the Contributor
Chwoeger Charleston, Staff Writer
Hi, my name is Chwoeger Charleston, that's Sh-way-gr if you don't already know me. I am currently a Senior here at Santaluces and this is my first year...