One of my earliest memories is playing Pokemon on my older sister's Nintendo DS. The little pink foldable console was in the palm of my hands as my sister passed it down to me. Now more than 10 years older, I'm reliving those same experiences with my brother handing down his Nintendo Switch and Legends: Arceus.
The game overall was extremely fun, with inventive methods in the gameplay and multiple maps, there were so many things to do. What I want to do with this review is, of course, tell you all about my favorite things about it but also be realistic and honest.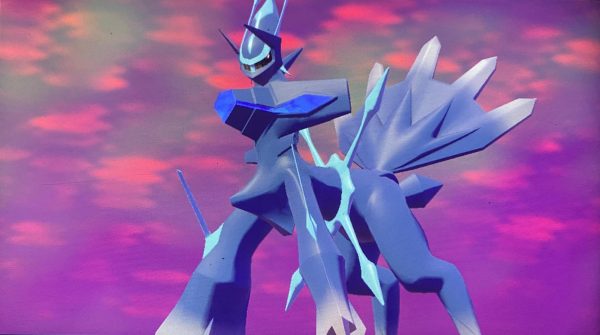 You start the game magically dropped back in time, where there are strange creatures everyone seems fearful of and no one trusts the stranger from the sky. By completing "requestions," missions, and updating your Pokedex you rise through the ranks of their Survey Corps. You, the protagonist, have no memory of your life before dropping out of the sky, just some strange clothes and an "Arc Phone" as you meet the people of Hisui. Over time as you climb the ranks, the Corps will entrust you to quell the fury of "mad" Pokemon; those creatures being the big bosses of the game.
This game, like all of the Switch games, is fairly expensive, and if you're looking for a game with a more in-depth story or even classic elements of Pokemon like Gyms and NPC battles this isn't for you. This game is extremely focused on you, the player, and you rarely battle others. I can understand how this can feel boring and tedious with a lack of Gyms and the majority of your time spent completing your Pokedex. Personally, I thought this somewhat open-world format without an emphasis on progressing through ranks brought something different to the sphere of Pokemon games. The emphasis on exploration and customization of your player and Pokemon team makes it a good game for me as it scratches that exploration itch. I don't find games too enjoyable if there isn't a fairly high level of freedom.
One major feature difference is the integration of agile and strong moves. Some moves a Pokemon has can appear as normal, strong style, or agile style. I think this addition makes up for the lack of Pokemon trainer fights. With strong style your attack points are raised at the expense of your turn being missed; with agile style, your attack points are lowered so you can attack multiple times in a row! The majority of the fights are with wild Pokemon in an attempt to catch them or make the Pokemon on your team stronger.
One highlight at the top of my list was the space-time-distortion where roughly every few minutes a colorful bubble-like dome will appear and special items and Pokemon will sporadically appear in it. You can catch and battle rare Pokemon –they include shiny, alpha, and high-level– and collect special items (hint: those special items can evolve particular Pokemon.)
However, there are some severe downsides to the game. Many of the criticisms are about the graphics and textures of the game and environment, and I can agree with some of them. Many reviews have called the maps "vast yet desolate" and it is a fair descriptor. While the maps are fun to explore, there are many areas where they're just bare, and it makes the world feel so alone and empty at times. Alongside that, the other main criticism is that it can feel unfulfilling; I've finished the story but I went back to finish my Pokedex and it just feels like I'm going in circles.
But, I counter that by saying that this game breaks the mold that so many Pokemon games have followed for the past two decades; it can be hard to be different when something has such a beloved legacy to live up to.
While many believe the game was an overall failure, and some are ambivalent, I truly did like the game, I just acknowledge that everything has its downsides. It was overall enjoyable, with some minor improvements needed like puffing up the story or more interpersonal battles that I truly don't mind being absent. I give Pokemon Legends: Arceus four out of five stars.