What is the AICE Diploma?
This year, Seniors seeking an AICE Diploma will have fees waived.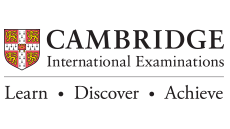 Just a few years ago, Santaluces introduced AICE classes on campus. These college-level courses were becoming popular across the state and in Palm Beach County as an alternative to traditional Advanced Placement classes. This year, there are 492 Chiefs enrolled in AICE courses – twice as many as last year.
And, the 19 seniors who are eligible for an AICE Diploma will qualify for a full Florida Bright Futures Scholarship.
"I'm a little nervous about the upcoming exams," said Senior Emily Sleezer, who is relying on passing her tests to get the diploma. "I'm confident I'll pass- I'm only worried about how good of a grade it will be."
The Cambridge Advanced International Certificate of Education (AICE) is a worldwide curriculum that more and more schools are recognizing for college credit. It's based in the United Kingdom and has been in place since 1997. Prestigious Florida colleges such as FSU and UF accept AICE Diplomas.
There are different levels of the diploma students can earn, depending on how well they do on the exams. Santaluces is one of a few schools that will waive the retake fee this year for seniors who need only a few courses to earn the diploma.
During upcoming exams, students will have the ability to retake AICE tests that they did not pass the previous year. If a Junior wanted to retake an exam, they had to speak to Mrs. S Robinson and pay the $84.10 cost. Juniors should keep in mind that only exams for courses taken in the past year can be retaken. In other words, you cannot take the exam your Senior year for a class you took as a Sophomore.
"I will be going to the Saturday Success Program to study for my AICE Marine and English retakes," said Senior Devon Weber. "I have to take off work for this, but I'm determined that it will help."
This year's Seniors are the last to fall under the current curriculum for this diploma. They need to complete six AICE classes and pass the corresponding exams. Students need at least one class from the following categories: math and sciences, languages, and arts and humanities.
The class of 2017 will be the first to have to abide by the new curriculum. In addition to these six classes, they need to complete AICE Global Perspectives, which is currently being taught by Mrs. Finn.
"It's been a crazy first year, but the students have been troopers," said Mrs. Finn. "I'm using this year to organize my plan for upcoming years; [deciding] what I should and should not do."
These are the trial years for the AICE program at Santaluces. The school has only been offering these classes for a few short years, and the opportunity to earn the diploma will grow for incoming students. Next year there will be changes to make the workload easier for incoming Freshmen. Qualified students will begin AICE General Paper in ninth grade. With this, students will not feel rushed by their Senior year to take the required seven classes.
There will be a more clear-cut plan for what classes the students take each year. Mrs. S Robinson said this will prevent the stress of taking too many classes at once.
With AICE being new, a lot of parents and students are concerned for its validity in comparison to Advanced Placement classes. People assume AP is more reliable because it has been around much longer. Both earn the student college credit; but since AICE is practically all writing based, taking these courses helps in developing necessary skills a student needs when they continue with their education into college.
"AICE is very interdisciplinary, and not as rigid as AP," said Mrs. S Robinson. "It's a great program, and if done the right way, the students get their hard-earned diploma."