Thursday Night Thriller!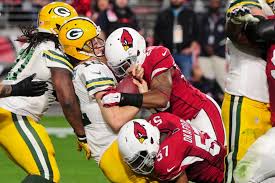 Two great teams took the field in a thrilling Thursday Night Football Game. This matchup was between the #1 seed in the NFC and the only undefeated team left in the NFL, the Arizona Cardinals and the Green Bay Packers.
Going into this game, there was so much anticipation and debate about who was going to win this one. However, the Packers ended up taking the win and crushing Arizona's dreams of being undefeated.
The Cardinals dropped to 7-1 and Green Bay looks to face off against the Kansas City Chiefs for their next game on November 7.