Halloween Horror Nights 2013
It's dark, crowded, and there's a wave of tension that shatters as you step through the ominous gates. Screams can be heard from inside, and it's hard to tell if they're from the rides or from the events taking place. This isn't your Mickey's Not-So-Scary Halloween Party, this is Halloween Horror Nights 23, which has crafted fear into a science.
Halloween Horror Nights 23 takes place on select nights between September 28th and November 2nd. This year's houses are Havoc, Cabin in the Woods, Resident Evil, Evil Dead, La Llorona, After Life: Death's Vengeance, An American Werewolf in London, and Walking Dead: No Safe Haven. Along with the Walking Dead house, the entire park is designed for the hit AMC series, with zombies and crashed vehicles littering the streets. One of the advantages that the zombies have is that in a dark environment, they blend in with the crowds surprisingly well. Sometimes I would have no idea a zombie was heading towards me until the actor lunged at visitors and had them scatter away in shock. The Walking Dead also has a haunted house based off of the third season, No Safe Haven. Walkers attack from all sides in the journey through the town of Woodbury.
Havoc was one of my favorite houses this year. This house is about bloodthirsty criminals being trained into soldiers, hiding in corners of the base to ambush all who enter. Resident Evil is a house based off of the movie and video game series of the same name. Universal Studios perfectly captured the essence of Raccoon City and the monsters that live in it. They took it to the next level from last year's Silent Hill house, using animatronics to recreate creatures that couldn't be made into costumes. My favorite part was how the further you progressed in the house, the more hectic things became. Resident Evil escalated from an uncomfortable walk with some monsters left and right to a complete warzone between humans and monsters.
Another tribute house is based off of the movie Cabin in the Woods. This house mostly focused on the laboratory in the movie itself, only taking a minute to walk guests through the actual cabin. Everything about the house was exactly like the movie as you walk past broken elevators and freed monsters. An American Werewolf in London also replicates the 1981 movie to a T as you venture through the village that's being terrorized by werewolves.
Not only were there houses, but there were two shows this year – Rocky Horror Picture Show: A Tribute and Bill and Ted' s Excellent Halloween Adventure. The Rocky Horror Picture Show tribute was a reenactment of the movie, except a few songs were shortened or completely cut out. Bill and Ted's Excellent Halloween Adventure, where the duo are back at their antics of ripping the big names in entertainment.
Urban Legends: La Llorona follows the Hispanic legend of the Weeping Woman. The Mexican folktale tells a story of a woman who drowns her children to catch the man she loves, but when the plan doesn't work, she's forced to wander among the earth for all of eternity, searching for her children and spreading her torture and misery. Try to escape the clutches of the Weeping Woman as she chases you throughout the house.
The final house of Halloween Horror Nights 23 is After Life: Death's Vengeance. Set during the 1920s, serial Killer Bobby "The Blade" Galleta is finally captured and executed. What he doesn't know is that all the souls of those he killed are waiting on the other side to make his afterlife miserable. This house uses 3D effects as you walk through a maze of various news headlines and souls of The Blade's victims.
A piece of advice for anyone who is planning on going, do not go on a Friday or Saturday night – lines on those nights can be as long as three hours. Your best bet is any day Sunday through Thursday if you want to do as much as possible. Also, immediately start getting in line for houses the second you walk in. Wait times slowly get longer and longer as the night goes on; at 6:30 the houses may be a five minute wait, while at 11:30, they can be an hour long.
Halloween Horror Nights 23 did not disappoint. It was definitely an event to remember, and I can't wait for what Universal will come up with for next year.
Leave a Comment
About the Contributor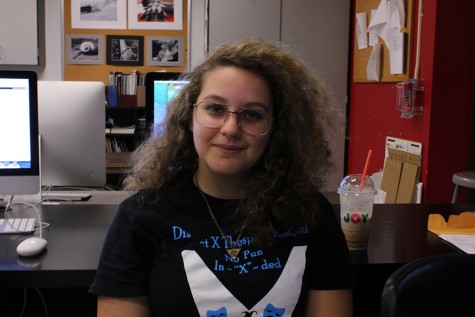 Abbey Brannock, Managing Editor
Hello, I'm Abbey, and I'm a senior. I'm The Tribe's managing editor and this is my third year in newspaper. Besides writing, I love riding horses;...