Fake it to Make it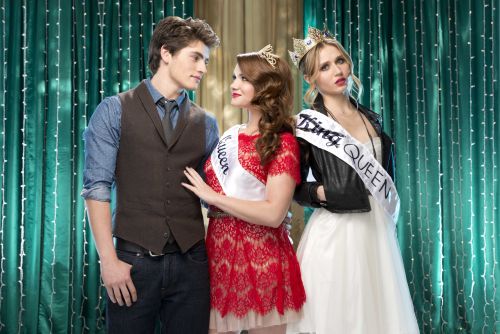 MTV premiered its new show, Faking It, to add to its line-up of scripted TV series' that include Teen Wolf and Awkward, which started its third season.
The comedy revolves around two best friends, Karma and Amy, who both reside at the bottom of the social ladder. The beginning of the pilot has Karma, the more outgoing of the pair, attempting a scheme of fake blindness to gain popularity. After the plan fails to see light, the duo are mistaken as a couple by the school's most popular guy, Shane, and run with his mistake.
The two best friends attend Shane's party where Amy is cornered by Shane, who tells her she should exit the closet proudly, while her pseudo girlfriend Karma is hit on by Shane's equally handsome but non-homosexual best friend Liam. While the fake happy couple is attempting to leave, Shane announces to the party-goers that they should support the couple and vote for them as homecoming queens.
While the popularity hungry Karma beams at her newfound status, she got free baked goods and a photo shoot after all. Amy feels more apprehensive about taking on the fake relationship. After a fight in the locker room about whether they should continue, Amy storms off and Karma tells Liam that they broke up.
Amy's evil step sister, because really every show needs one of those, then tries to reveal the truth to the school but is stopped by Amy -who had just reconciled with Karma on the schools rooftop- pulling Karma into a kiss that is fueled by confetti falling from the ceiling.
The two then pull a part, both muttering "wows" before Karma thanks Amy for putting on a show and walks to engage all her fans while Amy stands there clearly affected by the kiss.
The preview for the remainder of the season features Amy struggling with her orientation, Karma and Liam starting a ill-fated romance, and Shane being employed as Amy's fake boyfriend since a show can never have enough false relationships.
 Faking it airs Tuesday on MTV.
Leave a Comment
About the Contributor
Helen Burdier, Entertainment Editor
I'm Helen and I've been a member of The Tribe, formerly called The Tomahawk Times, since sophomore year. Now, as a senior, I'm the Entertainment Editor....