The Amazing Spider-Man 2 Review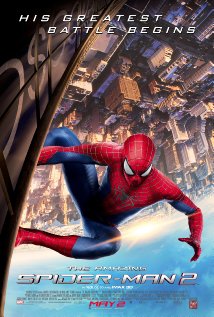 Whether people says he's amazing, spectacular, or sensational, the web swinging hero has returned in the Spider-Man movie we've always wanted. The Amazing Spiderman 2 is the filled with action, suspense, romance, and a cast that'll make you love the franchise even more.
The film revolves around a young Peter Parker who has a ton on his plate dealing with not only Gwen Stacy and their unstable relationship, but also with the mystery of his parents, the return of his childhood friend Harry Osborn who needs Spider-Man's blood, and the arrival of an electrifying villain that has the power to destroy New York.
Many worried the film would be overpopulated with villains and the worry director Marc Webb would make the same mistake Sam Raimi's did in Spider-Man 3. Well, that's something you won't have to worry about; the character development is on point because Marc Webb, also the director of The Amazing Spider-Man 1, managed to give each villain an appropriate introduction with enough of a background story for you to actually love the characters.
One thing Marc Webb did right was the elements he set up so we can anticipate future Spider-Man sequels and what villains could possibly be in them. Along with character introduction, there's also the chemistry of Peter Parker and Gwen Stacy have that makes you feel as if you're watching a teenage romance flick. The chemistry from the two gives more of what many loved from the first movie.
Staying true to the comics was another great component Marc Webb used. Not only did he manage a story that dealt with the many conflicts that were based off issues from the original comic series, but he brought them to life in the best way. Everything felt like you were reading a Spider-Man comic thanks to Andrew Garfield's witty and entertaining portrayal of the hero. Although Marc Webb goes more by the comic than Sam Raimi (Director for the original Spider-Man series), the Green Goblin's background story gets a little tweak as instead of Norman Osborn (Father of Harry Osborn) being the Goblin first, it goes straight to Harry. Even though it goes straight to Harry, Marc managed to do it in a very creative way and along with excitement as Dane Dehaan plays his role with a ton of charisma.
The soundtrack is also a big plus as Pharrell, Alicia Keys, and Kendrick Lamar contributed to the movies music. The soundtrack is definitely better than its predecessor as it has a more superhero movie feel with twists of heroic orchestra, EDM, and much more. The 3D was also a plus compared to gimmicky 3D movies that are out now. On a presentational note, Sony did amazing camera work, special effects, 3D, and music.
The director managed to deliver a truly spectacular movie based off of one of Marvel's most iconic superheroes ever. The Amazing Spider-Man 2 truly deserves its title of being called The Amazing Spider-Man.
View Comments (1)
About the Contributor
Jacob Serrano, Staff Writer
Hi I'm Jacob. I'm a junior at Santaluces and this is my first year on The Tribe staff. I enjoy playing baseball and football. One of my passions is surfing...