Caffeine Craze
The start of the new year allows teachers to once again have coffee delivered right to their doors. Teachers who buy a cup of joe support the IND unit (intellectually disabled students) by purchasing coffee from Mr. Lucien and Ms. Snadowski aka "The Cookie Lady."
"The kids love doing it," said Ms. Snadowski. "It teaches them a lot of independence."
The coffee (iced, decaf, etc.) is all brewed by the students themselves. It is part of their curriculum known as OJD (on the job training). The students get to experience what it's like to be in the field after school participating in a special program where they can work at places like Publix and Between the Bun.
"I started doing it last year," said Stanley Despino, sophomore. "I like it."
All teachers need to do is fill out an order form listing how and what exactly they want in their coffee and a chart is then composed to distinguish who gets what and finally ends up on the speed tray. Alternating students, grades 10-12th, brew and deliver the coffee on a cart straight to the teacher's classroom. Students include, Robert Black, Jakaylie Wright, Jeremy Knight and Stanley Despino.
"We would love for the teachers to support the program," said Mr. Lucien. "Instead of buying Starbucks, buy with us."
About the Contributors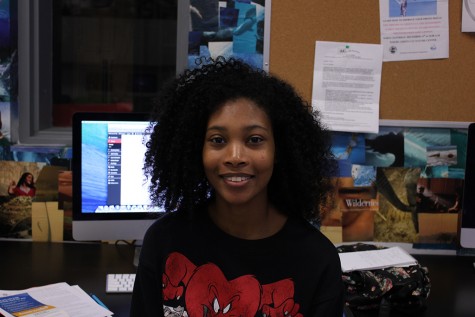 Lissan Martin, Staff Writer/ Photographer
My name is Lissan, Staff Writer/ Photographer, and I use words as my most powerful weapon whether it's in a debate or an essay granting me college admission....
Maria Castellon, Staff Writer
My name is Maria and I am a senior. I have been at Santaluces for  a little over a year. This is my first year in newspaper. I have also been taking film...