Planned Prank Cancels Pep Rally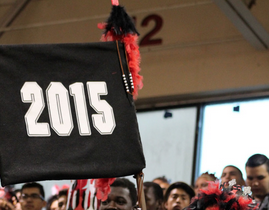 What started as a spirit day to celebrate the beginning of winter sports became a last minute cancellation. For the first time in the school's history, a pep rally was canceled. The following Tuesday, seniors heard warnings from Ms Robinson and Mr. Krupa about not allowing another prank to unfold.
Approximately two dozen seniors came up with a stunt to throw white powder during the winter sports pep rally on Friday. The plan was posted all over social media sites including Twitter and students were seen passing out bags full of baby powder the morning of the pep rally. Administration learned of the planned prank only 15 minutes before the start of the pep rally. Ms. Robinson announced the cancellation over the loudspeaker.
What the pranksters did not realize was that baby powder could cause serious injury, making the bleachers in the gym slippery, and raises various health concerns for people with allergies and respiratory conditions. Fights could have also broken out in the gym if the substance was dumped on other students.
"A lot of people knew [about the prank], but they didn't tell me," said a disappointed Krupa. "That's what bothers me."
In addition to preventing the winter sports athletes from being honored at the pep rally, former Santaluces student Troy Beckford, who lost both legs in a motorcycle accident was scheduled to appear at the pep rally. He and his family had just pulled in to the parking lot when the pep rally was canceled.
Although the pep rally was expected to be rescheduled, every day up until winter break is a testing day, preventing administrators from easily scheduling a makeup date. As for punishment, administrators have decided that the event was the seniors' first and only chance – any other serious situations of misconduct will guarantee that students involved are expelled or prevented from graduating, said Ms. Robinson and Mr. Krupa.
"We all make stupid mistakes," said Krupa. "I will never give up on you guys, so don't give up on yourselves."