Education Rocks Summit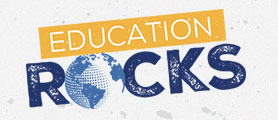 Education Rocks is a club that students can join to support a student in Bali. Club members must raise a total of $365 throughout the school year to support the students with school funds. Student sponsors may choose to co-sponsor or to work alone to raise the money for their student in Bali. About every 4 months, students in Bali are able to write letters and send drawings to their sponsors; Student sponsors are then able to send letters to their student in Bali as well. This is a great way to bond with each other and learn about one another as much as possible. Not only are sponsors changing the student's opportunity to go to school and receive quality education, but sponsors are also changing their family's lives by supporting their financial needs.
On February 6th, some of our chiefs will be attending the second Education Rocks summit of the year. These annual summits started just last year and have been extremely successful ever since. Here, our chiefs will get the chance to  build connections with students in the district who are also apart of Education rocks, learning self esteem tactics and how to combat stressful situations. This will be a great opportunity for students to open up and realize that it is okay to be unique in our own ways!
Currently, there are 35 students sponsors here at Santaluces who are working toward reaching their goal of $365. More than half of our students sponsors are halfway done with meeting their goal! Our Chiefs try to raise money for their students in Bali by arranging school related fundraisers; such as the lunchtime obstacle courses, teacher tortures, and even selling candy bars! Fundraisers at school allow for our Chiefs to recognize the purpose of Education Rocks and maybe even think about joining in the future!