Homecoming Pep Rally 2013
This year's homecoming pep rally was filled with dance, cheer, and a little bit of controversy.
It started off with the pink pom-pom filled performance (in honor of breast cancer awareness month) from the junior and varsity cheerleaders. The new dance team then showed off the sharp, rhythmic dance moves they had to offer, followed by the break dancing team where their popping, locking, and dropping had the crowd in awe.
This year's powderpuff teams were then introduced, starting with the junior powderpuff cheerleaders. They shimmied their way onto the floor and put on a performance that had many raising their eyebrows. According to Dr. Weigel, she had previously approved a different routine from what they displayed.
"It was a last second idea we had to blow everybody's mind," said junior powderpuff cheerleaders, Ardit Dullovi. "That performance was made up five minutes before we performed because they deleted all of our music for our original performance. When they played the music, Christian told us we would make this epic if we took our pants off and showed them our Soffes (shorts usually worn by girls for cheerleading), so we just ran out and we did it."
Because their routine was deemed inappropriate, the were given ISS for two days according to Dullovi. Weigel could not disclose any further information, but said that she "handled it."
After their performance was cut short, senior powderpuff cheerleaders took the floor. The rest of the pep rally consisted of faculty members dancing to timeless songs like "Jump on it" by Sugarhill Gang Apache or "Thriller" by Michael Jackson from different eras in honor of the Decade Day homecoming theme. Homecoming court nominees were also announced. (Congratulations to seniors Cherise McLaurin and Kevin Allain for winning homecoming queen and king.)
"This pep rally was probably the best one," said junior Daniela Delvillar. "It wasn't too long or short. I had so much fun, and the performances were amazing and so exciting."
The pep rally ended with the traditional battle for the spirit stick, which the seniors won again for the second time in a row this year.
Leave a Comment
About the Contributors
Mishka Brice, Editor-in-Chief
Hi, my name is  Mishka Brice and I am now the Editor-in-Chief of The Tribe. This is my third and final year here at The Tribe, and I am extremely excited...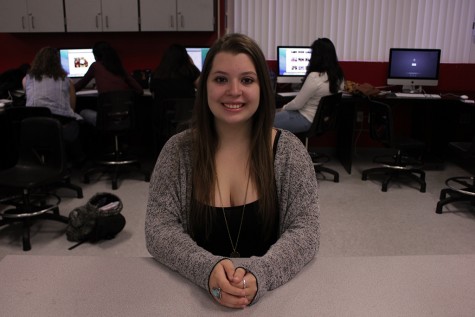 Adie Gonzalez, Photo Editor
I'm Adison Gonzalez, Photo Editor for The Tribe. Photography is one of my favorite forms of art expression, besides dance. I have been dancing for almost...