Space Glow 2013
Music, dancing, strobe lights and glow sticks – these were all included in Space Glow 2013, this year's Homecoming Dance.
The dance began at 9PM sharp and students were allowed inside the gym after showing their ticket and a type of ID. Glow sticks were also handed out to students as they filed in.
Inside the gym, the lights were out and black and white balloons arched across the ceiling. Cafeteria tables surrounded the gym, one of which contained food, such as pizza, brownies and cookies, for students.
The songs played included classic dance numbers such as the "Cha Cha Slide" and the "Cupid Shuffle," as well as some modern hits such as "Blurred Lines" and "Wop". Students, as well as a few teachers, danced to the music throughout the night.
The highlight of the dance arrived near the end of the night, with the announcement of this year's Homecoming King and Queen, Kevin Allain and Cherise McLaurin. The pair slow danced to the song "You're Beautiful" by James Blunt by themselves for a moment and were joined by other couples for the remainder of the song.
"I had a lot of fun," said sophomore Valeria Felix. "I'm looking forward to whatever is in store for next year."
The dance finally came to a close at midnight after a couple of more songs. Exhausted students filed out of the gym and the night came to a close.
Leave a Comment
About the Contributor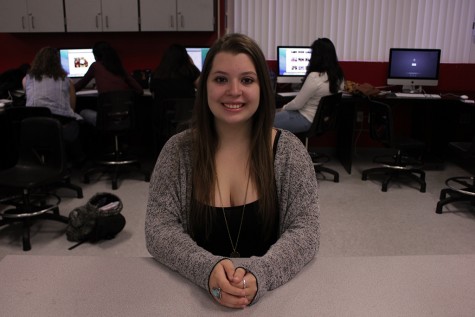 Adie Gonzalez, Photo Editor
I'm Adison Gonzalez, Photo Editor for The Tribe. Photography is one of my favorite forms of art expression, besides dance. I have been dancing for almost...