Jimmy Fallon Won't Stay Up Late Anymore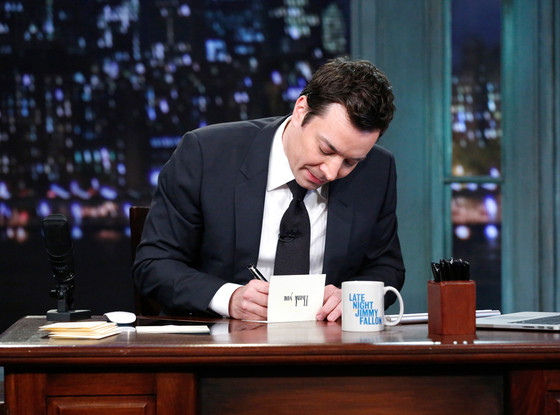 For five years the 12:37AM time slot has been filled by former SNL cast member Jimmy Fallon and his mixture of comedy and music, games with the guests, and bursting through sketches with giggles. His last Late Night was complete with an interview with another SNL alum, Andy Samberg, and a musical number with The Muppets.
Fallon began the episode with a monologue, stating that over 10,000 monologue jokes have been made in the show's 969 episodes. He then summarized those 10,000 jokes into one logic-defying joke, "Joe Biden needed Obama-care after Anthony Wiener texted Justin Beiber a picture of Chris Christie dating a Kardashian on the Jersey Shore."
The last Fallon-powered Late Night pulled in 6.6 million viewers, the largest audience the 12:37 AM aired show has ever received.
The high-rated goodbye episode had a segment with advice from other celebrities about Fallon's move to The Tonight Show, from Miley Cyrus jokingly telling him to wear less clothes for higher ratings, Judd Apatow telling him not to change anything, to The Voice coach, Blake Shelton, admitting he doesn't even know what Fallon does.
Fallon welcomed Andy Samberg, a former SNL cast member and a recent Golden Globe winner, as his last guest. The pair had an "intense interview" that had Samberg screaming questions amidst dark lighting and a single spotlight. Among the questions were "When do you cry?," which Fallon answered with "When I'm awake."
Before ending the show, Fallon made sure to thank his announcer, Higgins, who he's known since his SNL days, and his house band, The Roots, who have supplied background music for the puns of all his jokes. Fallon also thanked the Late Night fans because without them the show wouldn't exist.
The new Tonight Show host ended the night with a duet of "The Weight" with The Muppets.
Jimmy Fallon will take over The Tonight Show on February 17th with guests Will Smith and U2, while Seth Meyers slides into his chair on the 24th with Amy Poehler as his first guest.
Leave a Comment
About the Contributor
Helen Burdier, Entertainment Editor
I'm Helen and I've been a member of The Tribe, formerly called The Tomahawk Times, since sophomore year. Now, as a senior, I'm the Entertainment Editor....