Piano Tiles is a New Level of Addicting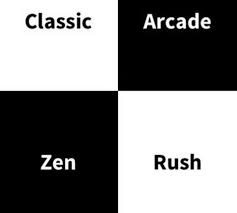 Yet another viral game sensation has taken front stage, Piano Tiles, also known as Don't Tap the White Tile, is now the second top game in the App Store and in Google Play. With a self-explanatory layout, all that the game holds are black and white tiles, hence the name of the game. In this game, the goal is to tap on the black tiles and avoid the white tiles at all costs as they race down the screen. The game offers five modes: Classic, Arcade, Zen, Rush, and Relay.
The two most popular modes appear to be Classic mode, where the goal is to tap 50 black tiles as quickly as possible, and Arcade mode, where the goal is to tap as many black tiles as they progress down the screen and increase in speed. The taps can be accompanied by piano sounds that can create songs when tapped consecutively. These include songs by composers such as Beethoven and Pachelbel. This extremely addictive game is very simple but requires lighting fast reflexes.
This game is the latest in what appears to be a series of simple, yet incredibly addicting and frustrating games. Once a high score is beat, you commit to surpassing that score. The game induces rage, anger, and a drive to beat each others top scores, and it certainly has all the elements necessary to make people download it.
Leave a Comment