Netflix Suggestion: Parks and Recreation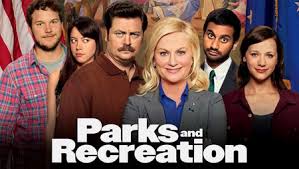 As Netflix users know, it is a struggle to find a great show to watch. One series that is entertaining and funny is Parks and Recreation.
The comedy, which had its series finale last month, shares the same documentary style as The Office. Amy Poehler stars as Parks and Recreation Deputy Director Leslie Knope, who throughout her time holding the position had her mind steered on building a park for her hometown of Pawnee, Indiana.
In the first season, she gets a chance to accomplish that goal. After a local citizen (Chris Pratt) falls into a pit and breaks his legs, his girlfriend Ann Perkins (Rashida Jones) demands for the pit to undergo construction. This accident gives way for Knope to possibly build her dream park.
Throughout the seasons, audiences will see the process taken to build this park and the crazy lives of the departments employees, like Ron Swanson and Tom Haverford. Ron Swanson (Nick Offerman) works as the chief of the Parks and Recreation department, however, he loathes the government and the principles it bestows. Tom Haverford (Aziz Ansari) is equally a bad match for government work because he's more focused on his style, his side project "Rent a Swag," and 90's RnB.
Another character that makes the show fun to watch is Andy Dwyer (Chris Pratt). He falls into the role of clueless person, usually talking nonsense but at the same time, ironically, being a person to admire.
Each character adds variety and humor to the show. Along with that, they show the importance of friendship and how by working together, things can be achieved.