YouTuber MadeYewLook Makes Makeup an Art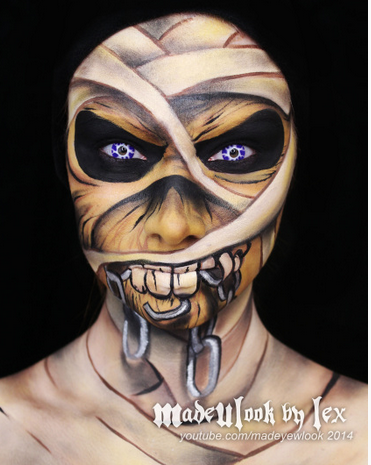 YouTube is home of different styles of videos, having more than 1 billion users who use the site almost about everyday. There's channels for comedy, challenges, gaming, and beauty gurus. But this channel, Madeyewlook is a different spin of beauty. Instead of everyday make-up tutorials, she instead shows off special effects, and she uses body-paint to create known pop culture characters, and some with her own spin.
Alexys Fleming is self-taught make-up artist, licensed in cosmetology. In her videos, Fleming gives tutorials on how she does the exceptional body-paint art. She paints characters on herself of comic book heroes, zombies, video games, TV personas, and takes requests from her viewers on what she should paint. She starts from scratch telling viewers where to start base lines, and progressively starts creating the character by mixing and smoothing the paint, to the point where she looks nothing like herself.
Fleming also has an organization called MadeULook for a Cure, for people with diabetes just like her, whom has Type 1. She also has make-up brushes that she created herself that are cruelty free, and eyeliner on the way in April. Fleming stands behind many great causes and constantly tells her viewers that it is okay to be who they are, and wear make-up to make them feel beautiful.
She also has another channel [MadeYewLookTwice] for regular beauty looks and reviewing products.
Make sure to check out her channels, and see how easy it is to get hooked.