Sheppard's Bombs Away is a Hit
Dream the impossible dream, fight the unbearable foe and reach the unreachable star – A quote off the album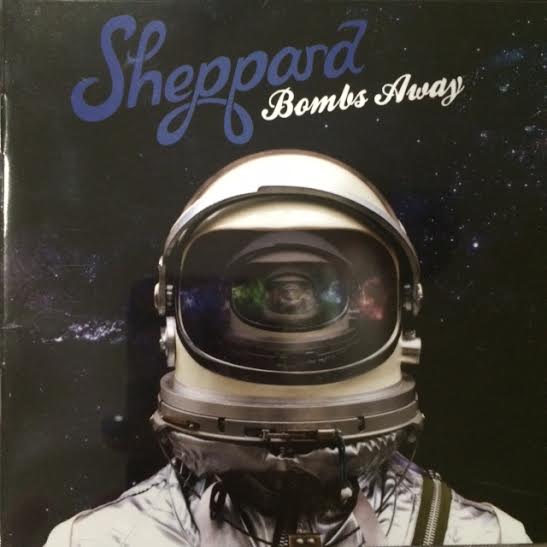 Australia's hottest indie band, Sheppard, took the charts by storm with their hit Geronimo in 2014. Composed of three siblings along with three friends, this band is determined to make it in the music world. Here are the twelve songs that made Bombs Away a hit.
Geronimo- Meaning to express exhilaration, Geronimo was certified as 5x platinum song. With its inspiring lyrics and upbeat music, this song was written to show the leap of faith one has to make.
"Can you feel it? Now it's coming back. We can steal it if we bridge this gap… So say Geronimo!"
Something's Missing- Setting a great vibe, Something's Missing is a heartfelt song about finding the right partner.
"I walk a road no one dares, without the lines, without the fares… A shot to get another dance, a hand to hold before the end."
Let Me Down Easy- Let Me Down Easy is the song that attracted music labels to Sheppard. With its playful beat and lyrics, this is a great song to vibe to which made it one of my favorites.
"Night and day I've been doing the math, to calculate where we wandered off track. But I know this love was never easy."
These People- A shift from lively lyrics to deep strong words, this song is for those who experienced hurt and pain from a friend or loved one.
"Well I won't waste another minute on anyone like you. You're heartless in your origins and I'm tired, weak and through."
A Grade Playa- Having the previous four songs sung mainly by George Sheppard, the eldest of the three siblings, Amy Sheppard took the mic now leaving me with mixed emotions from her singing. This song is to show a girl's perspective from a bad relationship.
"Through your cheating and scheming, I'm still believing that I'll find a dude who is better than you."
Smile- Just like the song title, this song will leave you smiling. It's cute and relatable lyrics is for those who have a crush on someone.
"You walked up to me and asked for my name, now every little thing for me has changed."
The Best is Yet to Come- Taking longer than necessary for this song to start, the best is yet to come is a song of hopefulness.
"Take me to a different place, where love is not illusion based. And fear is just a word they can't define."
This Electric Feeling-  This electric feeling, sets the mood with steamy and passionate lyrics.
"You walk toward me from across the room, now my self control has fallen through. In a minute I'll be begging on my knees."
Find Someone- This song, sung by George Sheppard, shows the emotions from a male perspective when the partner you're with is not the right one. Hence the title to find someone better.
"Maybe you just got a little bit lazy, but you've been acting unfamiliar lately, and given me a reason to leave."
Lingering- After listening to this song, it will make your thoughts is linger with its conflicting lyrics.
"Everybody's got a bed for two, without another mine is wasting room. I'm not afraid to start looking for you, I'm just afraid I'll be out while you're passing through."
Halfway to Hell-  Preferring this song to be sung by George Sheppard, this is the least favorite song of mine.  The song has upbeat guitar and drums but did not appeal to me.
"All that is left here is the darkness of the night, where do you run to when your're banished from the light?"
Flying Away-  Instead of keeping her vocals in the background, Amy Sheppard shared the spotlight with her brother George. As both sung hand in hand, flying away was a sweet ending to this album.
"I'm flying away from a state of decay, what a mess my princess, everything we made eroded away."