Top Five Best and Worst Outfits at the Met Gala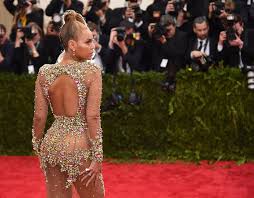 The past couple of days, Instagram, Twitter, and all other social media have been dominated with pictures of various celebrities who attended the Met Gala. Like always, some celebrities rocked their outfits while others completely wrecked theirs. Here are the top five best and worst outfits.
Best Dressed:
Kate Hudson
Famous actress from the hit movie, Bride Wars, definitely deserves a number in the top ten spot for best dressed because this gown is absolutely fabulous. This Michael Kors dress shimmered down the red carpet the whole night with her perfect makeup to match her gown.
Rihanna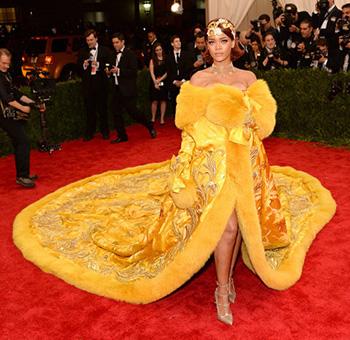 BBHMM singer held the Met Gala in the palm of her hands. Being one of many with a long train in the back of her gown,  she was definitely one of the more noticeable celebrities. Even though critics had a lot to say about her gown, like comparing her to scrambled eggs, I believe her dress was gorgeous.
Beyoncé
Queen Bey has done it again. Appearing in this partially see through gown, she had all eyes on her. My favorite part of this ensemble is definitely her daring hairstyle. This style is pretty risky but she managed to pull it off.
Fan BingBing
Fan Bing Bing, famous for featuring in X-Men, looked gorgeous. She shined the whole night and I'm not just talking about her dress. Her hairstyle, make up, and simple jewelry really topped everything off.
Zendaya
Actress and singer, Zendaya, definitely caught my eye with this gorgeous outfit. Her head and arm piece go perfectly with her gown which really brought my attention to her.
Worst Dressed:
Katy Perry
Firework singer, Katy Perry, is the perfect example of trying to be different and chic but completely failing. From the short cut all the way to her spray bottle purse this outfit was not attractive at all.
Miley Cyrus
We Can't Stop singer, Miley Cyrus, definitely should have stopped. She usually appears gorgeous gowns caused a lot of people to anticipate yet another gorgeous gown but this was not the one. The dress didn't fit her right at all and she could've bought a dress that actually defined her hips.
Sarah Jessica Parker
Sex and the City star, Sarah Jessica Parker, deserves a special spot in the worst dressed list. She's an amazing actress but when it comes to fashion, she doesn't really know what she's doing. This headdress was a little too much for my taste and I feel as though it threw the whole outfit off.
Chloe Sevigny
Old time actress, Chloe Sevigny, famous for her movie Kids, definitely caught peoples attention but not in a good way. This outfit looked very cluttered and disorganized, she might as well have worn her living room curtain with a gown like this.
Dylan Lauren
Daughter of famous clothing designer, Ralph Lauren, should've just stayed home appearing in a gown like that. The dress would've been fine without the frills, jewels, and horrid belt, overall this dress was tragic.