Kubo and the Two Strings Takes You on a Magical Quest
If you are a fan of mythology, magic, and movies filled with powerful meanings, do yourself a favor and watch Kubo and The Two Strings. This unforgettable movie has origami characters, an indestructible sword, enchanted armor, and beautifully portrayed Japanese culture. The audience experiences spirals of humor, heart wrenching emotion, and action packed battles. A talking monkey and beetle takes you along on Kubo's journey to fulfilling his destiny.
Kubo and the Two Strings launched into theaters last week making $12.6 million dollars in the box office. The movie is set in ancient Japan and tells the story of a boy who finds himself on a quest to avenge his parents. The extraordinary essence of the animation cannot be over looked. Throughout this movie, the films story is supported by the construction of visuals. These visuals are vividly, and vibrantly breathtaking. The characters themselves are done in Claymation (a type of animation), which I felt added a very traditional and homemade feeling to a movie that revolves deeply around family.
Beyond this movie being a work of art, it tells more than just a lovely story. Kubo and the Two Strings is a movie that shows it's audience to have courage in the face of fear. If anything, this movie is not afraid to show the not so great aspects of life, such as that of desolation and sorrow. In my opinion, the creators of Kubo and the Two Strings have done a great job at constructing a movie full of life. I had moments when watching the movie where I was clinging on to my seat during an epic scene, laughing, and even moments where I shed a tear. I recommend everyone to join Kubo on his quest, you won't regret it.
About the Contributor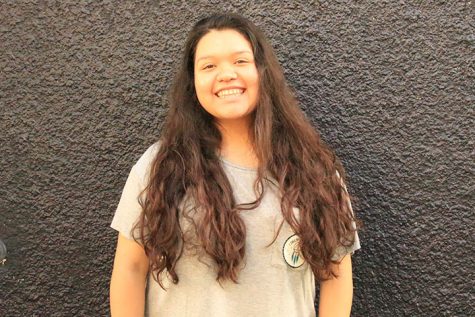 Viri Reyes, Staff Writer
Hi, my name is Viri. I'm a senior here at Santaluces, and it's my first year writing for The Tribe. If i'm not studying, I'm reading. I have a passion...