Lady Gaga's Super Bowl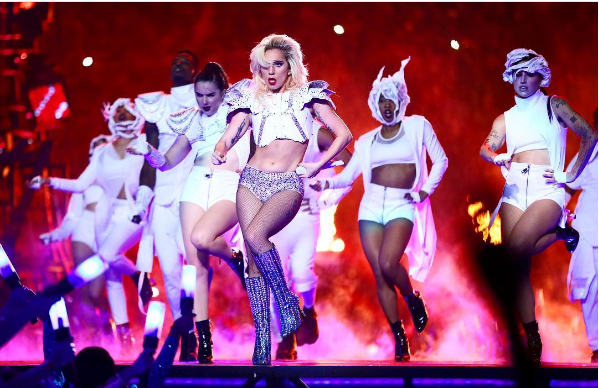 Lady Gaga owned the entire stadium during her half time performance for Super Bowl LI. Lady Gaga started by singing "America The Beautiful" and "This Land is Your Land" from the roof of the stadium in Houston. Drones were used during this, forming a beautiful sea of stars behind her. She also recited a few lines from the Pledge of Allegiance and then her crazy stunt. Gaga leapt off the stadium's roof to the center of the stage with wires attached to her hips and no safety nets prepared.
She sang a medley of her hit songs "Poker Face," "Just Dance," "Born This Way," and her new ballad song, "A Million Reasons."  As she sat in front of the piano, she shouted "We're going to make you feel good!" which she did. The soulful song was followed by a spectacular and thrilling performance of "Bad Romance." Lady Gaga proved she's an all-round performer as she danced with the same hype and was in sync with her back up dancers.
Her costume and makeup caught the viewers' attention as well. With her sparkly, silver costume and blue and red glittery eye makeup, it is said they cost almost as much as the football entrance ticket. She also sang "Telephone" which got the people thinking that Beyonce might appear as a surprise. But the end of the song, no Beyonce showed up.
But, with Beyonce or no Beyonce, Lady Gaga proved that she is the only one we needed on that fierce stage. Moreover, the devoted crowd that had gathered around her fiery stage was marvelous themselves. They formed various patterns such as a purple star in the midst of her performance. They also had choreography for each of songs, which made the entire performance simply breathtaking. Then, at the end of her astounding performance, she dropped her mic and jumped off the stage as she caught a football midair.