Diversity in the Emmys
This past Sunday was the 69th Primetime Emmy Awards. The night saw many winners for many shows and actors and actresses, especially for Hulu's The Handmaid's Tale and HBO's Big Little Lies, and while some people were upset about their favorite shows being snubbed, there is no doubt the show was a night of historic firsts for representation in television.
Donald Glover won Best Director for his comedy show, Atlanta, on FX. Glover is the first black director to win this award for the comedy category, while only three other black directors have won in the previous years for the drama category. He also took home the award for best lead actor in a comedy series, which broke Jeffrey Tambor's two year streak for his work on Amazon's Transparent. Glover is only the second black actor to win this award since Robert Guillaume won for Benson in 1985.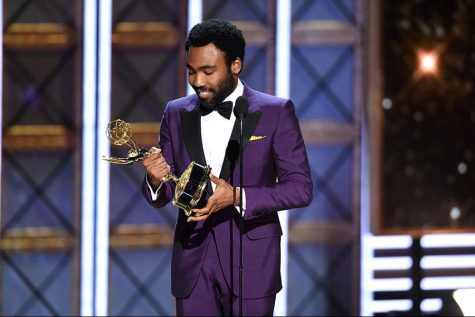 In addition to this, Sterling K. Brown won the award for best lead actor in a drama series for NBC's This is Us. Only three other black actors have won this award, but not any have won it in the past decade. Unfortunately Sterling was cut off during his speech and was forced to finish it backstage, however, it doesn't change the fact that his win is still important and historic.
Aiziz Ansari and Lena Waithe took home the award for best writing on a comedic series on the Netflix series Masters of None. Aziz won the award last year, however, Lena made history being the first African American woman to be nominated for the award, and also the first African American to win it. The episode for which they won was based off Lena's real life experience as a queer woman coming out, which her character does over the course of the episode through the years on holidays. In her speech, Lena gave attention to her LGBQTIA family and thanked the Academy for "embracing a little Indian boy from South Carolina and a little queer black girl from the south side of Chicago," in reference to her and Aziz. Her speech received a standing ovation.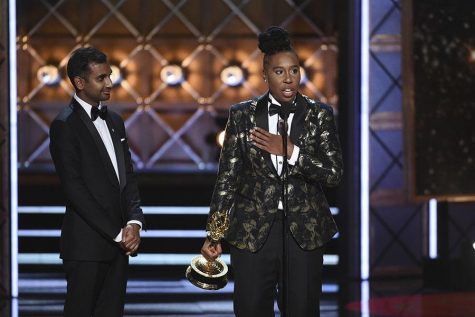 The Netflix show Black Mirror also received wins for outstanding writing for a limited series or movie and outstanding TV movie for its critically claimed season 3 episode "San Junipero." Charlie Brooker who accepted the awards stated that the episode's story, which centered on two queer women falling in love, was "about love and love will defeat hatred."
Riz Ahmed started the night off by showing his support for equality by wearing an ACLU ribbon on his tux and ended the night by collecting the Emmy for outstanding lead actor in a limited series or movie for his role in HBO's The Night Of. Riz's win makes him the first South Asian man to ever win an Emmy. Seven years ago Archie Panjabi was the first South Asian woman to receive the best supporting actress Emmy for The Good Wife.
It's unfortunate that in the year 2017 we are still shocked that actors of color are only the first or second to win an award after decades of film and television being around. By now it is something that should be the norm when it comes to showing recognition to hardworking actors and actresses of different ethnicities, as well as those who work behind the camera as directors and writers and so on. Both television and film still have a ways to go when it comes to properly including diversity and representation, but in addition to this year's Oscars, the 69th Emmy Awards have shown the growth of progression toward the inclusion of POC and different sexualities in entertainment.
Representation is important. For race, gender, and sexuality, it matters and inspires people who watch the movies and television and see others who look like them and who they can relate to. Hopefully in the next coming years, this progression will continue, the idea of representation will no longer be just an idea, and will receive much more recognition than it does now.